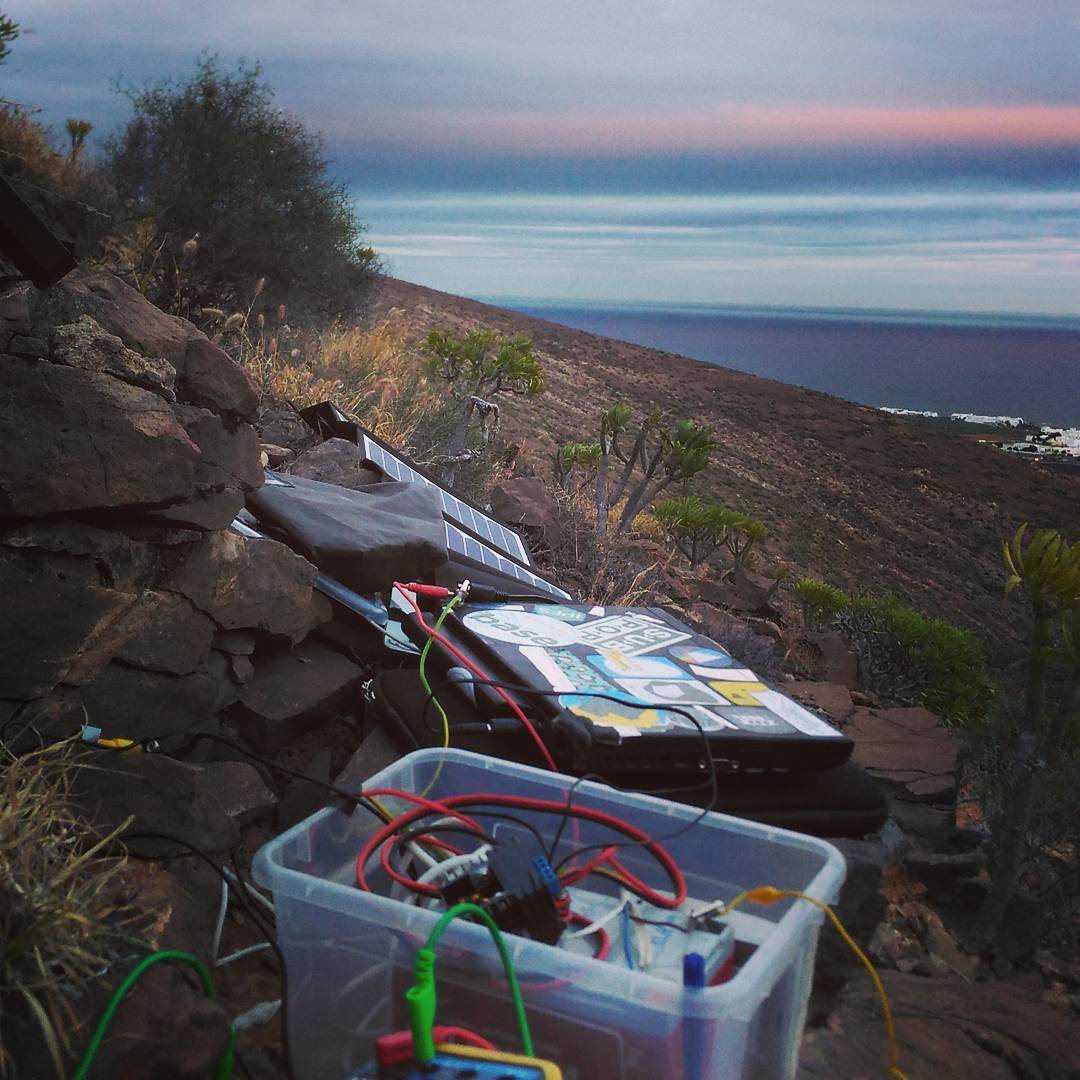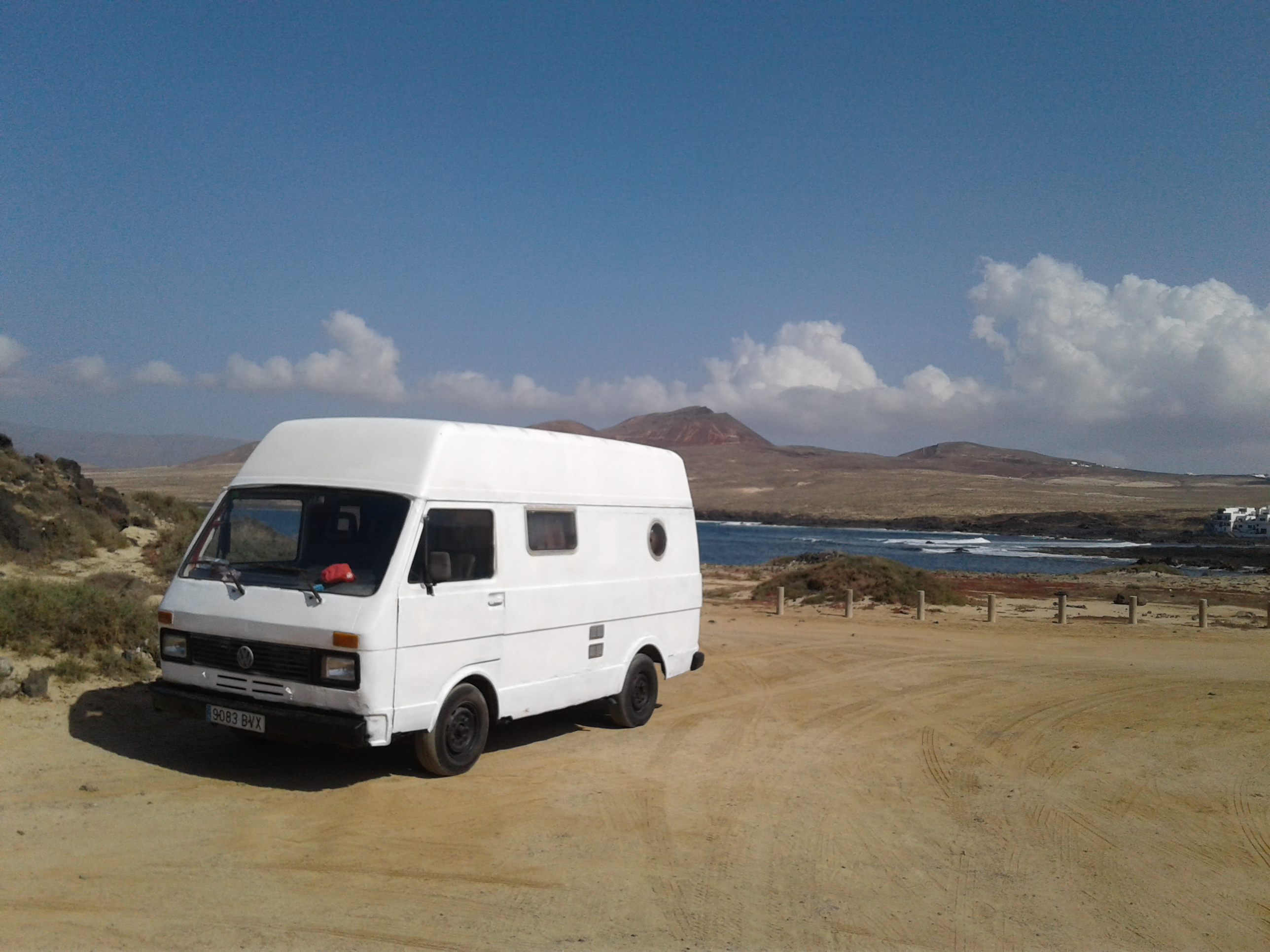 CHT/Totalism.org hackbase
is an infrastructure project in Canary Islands (Spain), researching, developing & practicing the transitional technologies, theory, tactics and arts, towards post-capitalism (2011→).
Living at the base assures subsistence & work means. Crews self-organize experimental, off-grid desert camps. The project will help anyone sharing the mission to attend.
### make links more visible
¶
SITEMAP
[ graph]"""#!DPI=10#!ENGINE=sfdp#!COLOR=B&W#!SHAPE=oval#!SHAPE.!=circle#!LON#!EDGESTYLE=dashed ##################@@<2>web!web"""
(For illustration — a cluster of basic documentation. More → 🔗oversee). Interactive at 🔗grahp3)
¶
BASICS
🔗contact — most essential: Telegram group, Twitterpublic Instagram, Facebook,### A/B / governance: remove or not?
⚫
🔗list — join the project mailing list! ⚫ 🔗puzzles — simplified: "How does the project provide subsistence & work means?" ⚫ 🔗projects — open list of project proposals ↓
⚫
🔗stuff — list of equipment (infrastructure commons)
⚫
🔗commonground — manifesto / conceptuals / ideology
⚫
🔗faq — extensive Frequently Asked Questions
⚫
🔗why-how-what — "Why do anything? What to do? How does the project fit into this?" ⚫ 🔗what — "What are you building to disrupt the system & the economy as a whole?" ⚫ 🔗todos — things you can do to help — most even if you don't make it to the base! ⚫ 🔗future — mid-term direction ideas
⚫
🔗events — events CHT participated at ⚫ 🔗donate — support the project financially
⚫
🔗history — complete project's timeline
⚫ 🔗season4 — full hackbase season plan, 2014-2016
### rethink if including
### mention explicit? CCC #31-36, camps (CCC, OHM, EMF), SQeK, etc.
¶
PROTOCOLS
→ 🔗protocols
⚫ 🔗planning — join next base organisation here!
⚫
🔗roles — how to co-organize inside a running subseason ⚫ 🔗newcomers — what to be personally prepared for, do before/during/after, etc
⚫
🔗subfinance — accounting system + detailed costs info
⚫
🔗flocking — self-organizing a subseason ⚫ 🔗manual — used at CHT 2011-2014, reference manual for Type 1 bases
¶
SYSTEMATICS
→ 🔗systematics
General:🔗calendar — complete European scene calendar: tech, theory & avant-art
⚫
🔗maps — Tactical living hack/theory/art points of interest in EU metropolae
⚫
(🔗lanzarote 🔗canarias 🔗london 🔗berlin Hamburg Amsterdam 🔗brussels 🔗paris 🔗ljubljana ...)
⚫
🔗alike — list of similar spaces & typologies (hackbases, nomadbases, etc
⚫
🔗non-shitty — as part of 🔗coop: relatively non-bullshit places to labour for money
⚫
🔗postuni — tactical academia? universities, institutes, theory, design, etc
⚫
🔗grants — hack-related grants and CFP resources Topical:
⚫
🔗representation.systems — list of powerful representation systems, to inform & influence beliefs
⚫
🔗real-hacks — useful & politically transformative — not just fun — things coming out of hacker culture.
⚫
🔗canarias — overview of related institutions on Canary Islands
⚫
🔗resources — non-profit basic resources for all, by locality
⚫
🔗tech-tree — general infrastructure stack, focused on the base's current state & future direction
⚫
🔗workflow — collaborative technology choices for bases: software, hardware, etc
⚫
🔗struggling — documenting various ways of struggling with the system
⚫
🔗markets — local & global, general & specialized suppliers. ⚫ Overviews: 🔗ecology — aspects of the ecological situation & the possible (personal, strategic) ways to address it
¶
PROJECTS
→ 🔗projects
🔗E2H — collaborative hypermedia platform, using Etherpad) ⚫ 🔗coop — quit your rent and your job, (work 10h/week, always on a hypertrip)🔗lim0 — replaces capitalist shops (post-market, inverts supply direction, anti-profit, collaborative selection & mass sourcing) ⚫ 🔗trucko — the project's 1984 VW LT 28 van ⚫ 🔗metrics — living environment quantification & lifestyle representation research ⚫ 🔗hacking-housing — Urbanism law vs Hacker architecture ⚫ 🔗dev-index — scheming, specifying and developing software ⚫ 🔗padland — open server: real-time collaborative documents & websites ⚫ 🔗slo-zadruge ### a bit obscure ... maybe @SUPPORTING or @LOCAL or something ... but also includes a manifesto ! ⚫ 🔗hackbase-type2 — abstraction & replication of the nomadic base ⚫ 🔗solar — solar power / renewable energy ⚫ 🔗base-eu — replicating the nomadic base in mainland EU ⚫ 🔗text — Text.Totalism Hypertext Library: Software + Content
¶
COLLABORATION
🔗E2H — etherpad→hypermedia content system (runs this site!) ⚫ 🔗ethering — effective use of 🔗E2H in different contexts ⚫ 🔗workflow-basics — computer-use basics for all ⚫ 🔗hacker-tools — ways of making computers useful: "What do you use for doing X?" ⚫ 🔗graph-index — thematic graph of the website ⚫ 🔗laptop — cooperatively distributing the best laptops in the world ⚫ 🔗intersub — protocol for actors in common struggle — from discovery, to consolidation
###add CL here
¶
ECONOMICS
→ 🔗economics
🔗ordering — equipment procuring, via 🔗protocol-ordering ⚫ 🔗lim0 — replaces capitalist shops (post-market, inverts supply direction, anti-profit, collaborative selection & mass sourcing) ⚫ 🔗coop — ### ⚫ 🔗coop-works — ### ⚫ 🔗postmarket — ### ⚫ 🔗comrade-license — regulates fair, consensual and mutually beneficial use of resources inbetween fellow travellers ⚫ 🔗resources — non-profit basic resources for all, by locality ⚫ 🔗resources-ship — peer-to-peer logistics: "What to bring from where?" ⚫ 🔗subfinance — accounting system + detailed costs info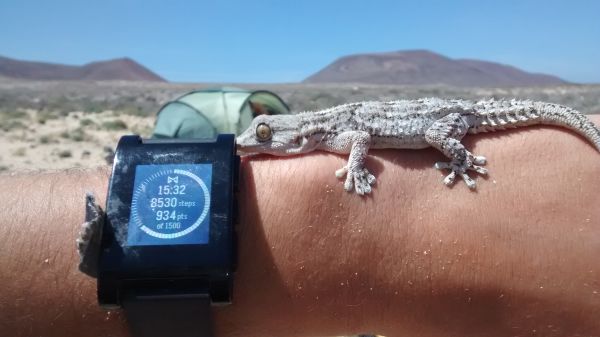 ↑ Tarentola angustimentalis (2015, La Graciosa)
¶
Dear Comrades !
(Too long? Skip and just read the annotations.)
This base is an open infrastructure project.
The crews are prototyping a new lifestyle, but also documenting it, so it can be replicated by others in the future.
###L: AWK, also in the present, feels incomplete
What are (hack)bases?
Hackbases
are live-in hackerspaces, and share the same ethos, but expand it to "full-time". We consider bases to be the critically missing infrastructure, that enables technologist (and others!) to fully dedicate to vanguard work.
Often hailed as a radical force, hackers are subsumed by the life logic of capitalist societies.
"Hacking" is mostly just a glorified hobby — hanging out at the local hackerspace, playing with personal projects — after the main work that pays the bills, occupies the majority of your time, and then you go home to an overpriced urban-area rental apartment.
Through developing automation, surveillance & market technologies, hackers in normal day jobs are powering our contemporary neoliberal dystopia. The basic pillars of public life are being destroyed, like free accessible education and healthcare, cities rents are rising under gentrification. Globally, an ongoing
ecocide
accompanies a continued colonial—imperialist aggression. These problems are as insufficiently addressed, and structurally cannot be solved by big corporate, startup, non-governmental or academic organisations, as well as by current hackerspaces.
The goal is to offer an extra-systemic alternative to this, and shift a negative trend of how technology is redefining societies. Bases provide a temporary or permanent retreat, life & work means, for dedicated work (technological, artistic, theoretical...) — in opposition to the mainline system.
Equipment wise — the base has everything you need to live and work here, including: living comforts, energy and water systems, computing equipment, high-speed internet access, electronics/DIY/hardware tools, audio/media, and many things to hack. More: →
🔗stuff
,
🔗tech-tree
###L: AWK, change "the base has ..." into "CHT hackbase" OR "a hackbase", as this point follows after a description of hackbases in general
This project began as "Cyberhippietotalism" or "CHT#1" — the first hackbase — in 2011.
3 years as a rented house (→
🔗hackbase-type1
) in the North of
🔗lanzarote
, Canary Islands (
wiki
,
map
), a beautiful UNESCO protected 40x20km Spanish island 100km west off the coast of
Western Sahara
. It seemed a good idea to spend winters living in a constant
20°C average climate
, with year-long ocean swimming.
The second version of the base restarted in the same island in 2014, as an outdoor experimental land-occupying off-grid habitat research initiative (→
🔗hackbase-type2
). The plan has been to transform again, and buy a first plot of land (→
🔗hackbase-type3
). Since 2018, a detour strategy of van-based mobility is being explored (→
🔗hackbase-type4
). A series of over 100 experimental living situation/camps have been performed, with many more different crews.
More → 🔗history, 🔗hackbases
The original plan:To develop recipes for self-sufficiency with means of open technology, get rid of money-dependence for a good life, that can be generally used.Extended: 🔗what
¶
Core interests
→ 🔗commonground - conceptuals / manifesto
→ 🔗projects - current projects
Self-sustainability, off-grid, autarky / resilience
Temporary architecture research & alternative construction
Free software and free hardware development / GNU/Linux / Free Industry
Open data, workflow & organisational technology, Tektology
Hypermedia & Representation systems
Critical theory, Socialism, Post-Colonialism/Imperialism
Growing food / Anthropocene / Environment regeneration
"Open source ecology"
Sound studio, bands, Intermedia Art
Renewable energy technologies
Financial and temporal freedom / Autonomy
Good food / Nootropics
"Coliving" and "Coworking" / Digital nomadism
¶
When?The project's infrastructure is available to anyone at any time. Join a running or planned subseasons → 🔗next Start a new subseason → 🔗flocking (self-organisation protocol)
¶
Where? How?
### make sure people can imagine how one actually lives here
* Based in Canary Islands, Spain * Currently in 🔗fuerteventura (2021) * The project is nomadic:
Crews operate temporary camps on temporary grounds, practicing & experimenting with
🔗hackbases
patterns
These currently include vans, tents, tarps, campers, following a mix of
🔗hackbase-type4
and
🔗hackbase-type2
.
Typically, camps stay active for several months, in different places: from the middle of the mountains, to right next the sea. →
🔗landsites
* We understand the territory through 🔗maps, and develop existing and new sites for temporary inhabitation.
¶
Plans?
* As of 2021, we are refocusing on buying land:
To establish a
🔗hackbase-type3
("Rural Land Facility").
Also see
🔗season4
.
* Other high-levels plans are collected here → 🔗future
¶
*** PAST CAMPS
###[ pics:cht]
¶
CHT4-A (2014/Nov, Dec)
[###pics:cht4a]
"Experimental Hacker Campground"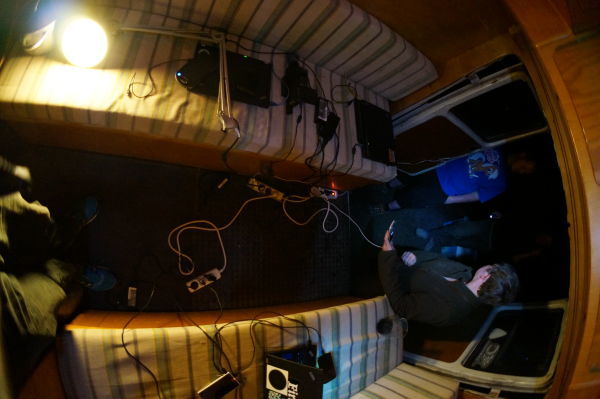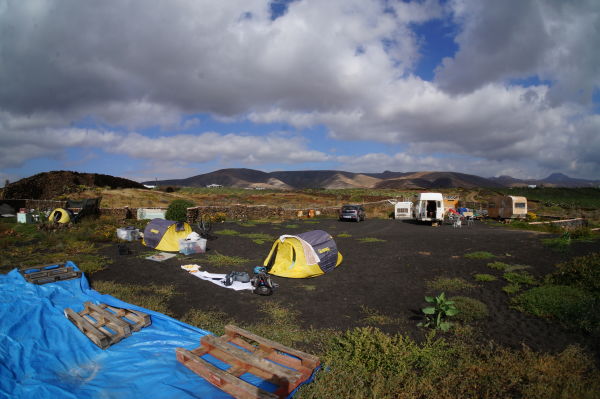 ¶
CHT4-B (2015/April, May, June)
[###pics:cht4b]
"Desert Autarky Sketch"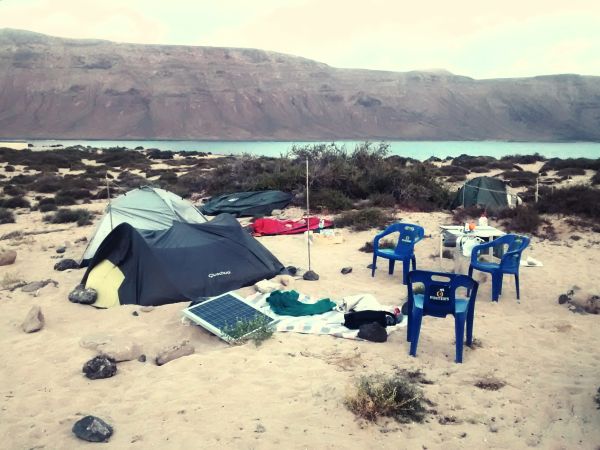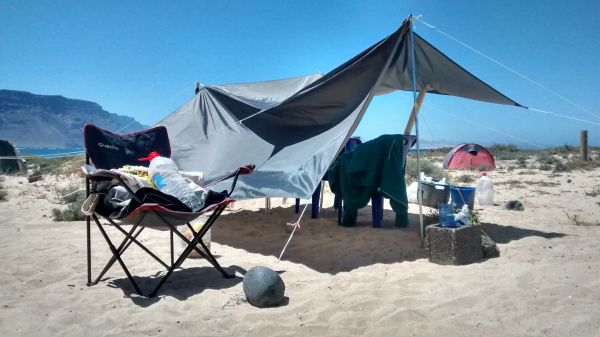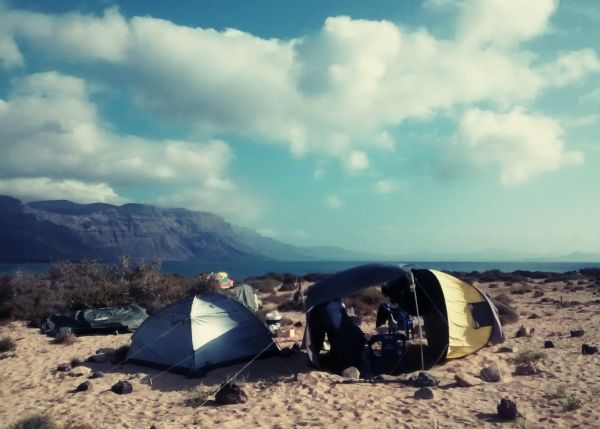 ¶
CHT4-C (2016/February, March)
[###pics:cht4c]
"Advanced Permanently-Temporary Resilience"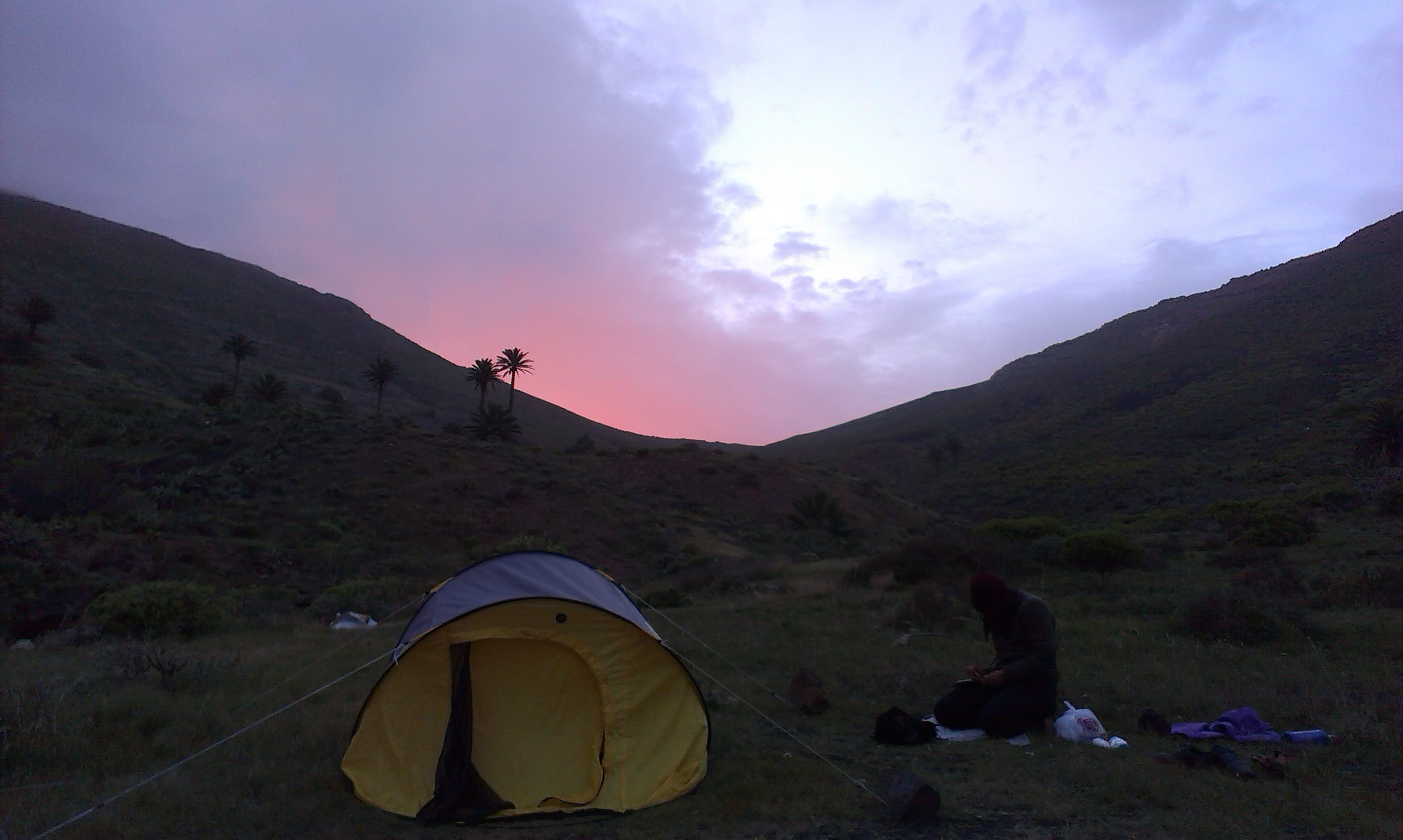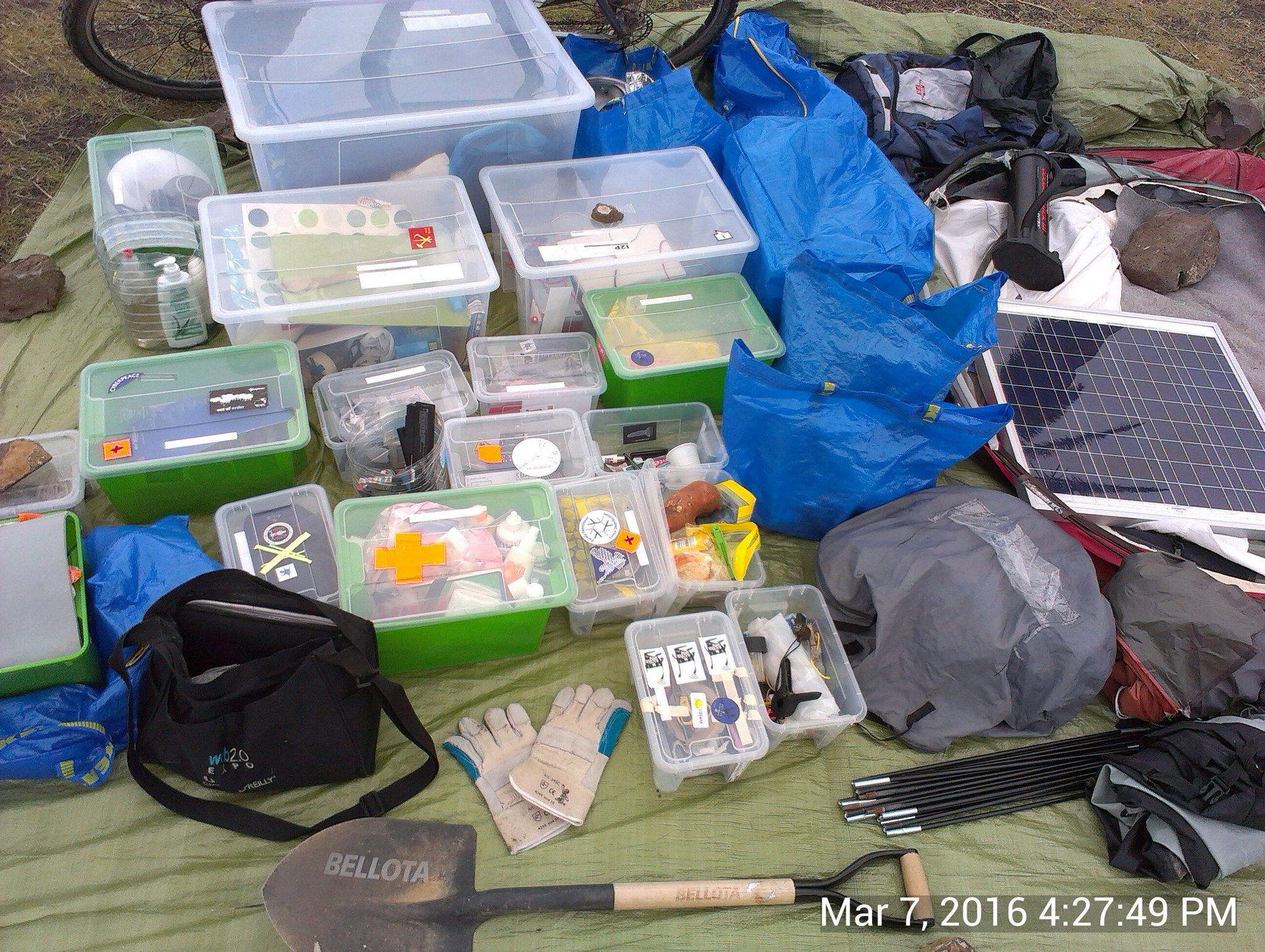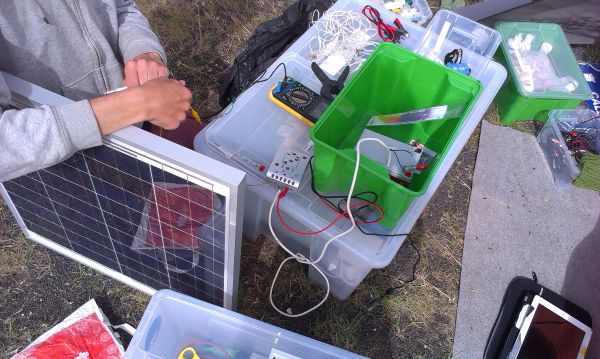 ¶
CHT4-D (2016/May, June, July)
[###pics:cht4d]
"New typologies"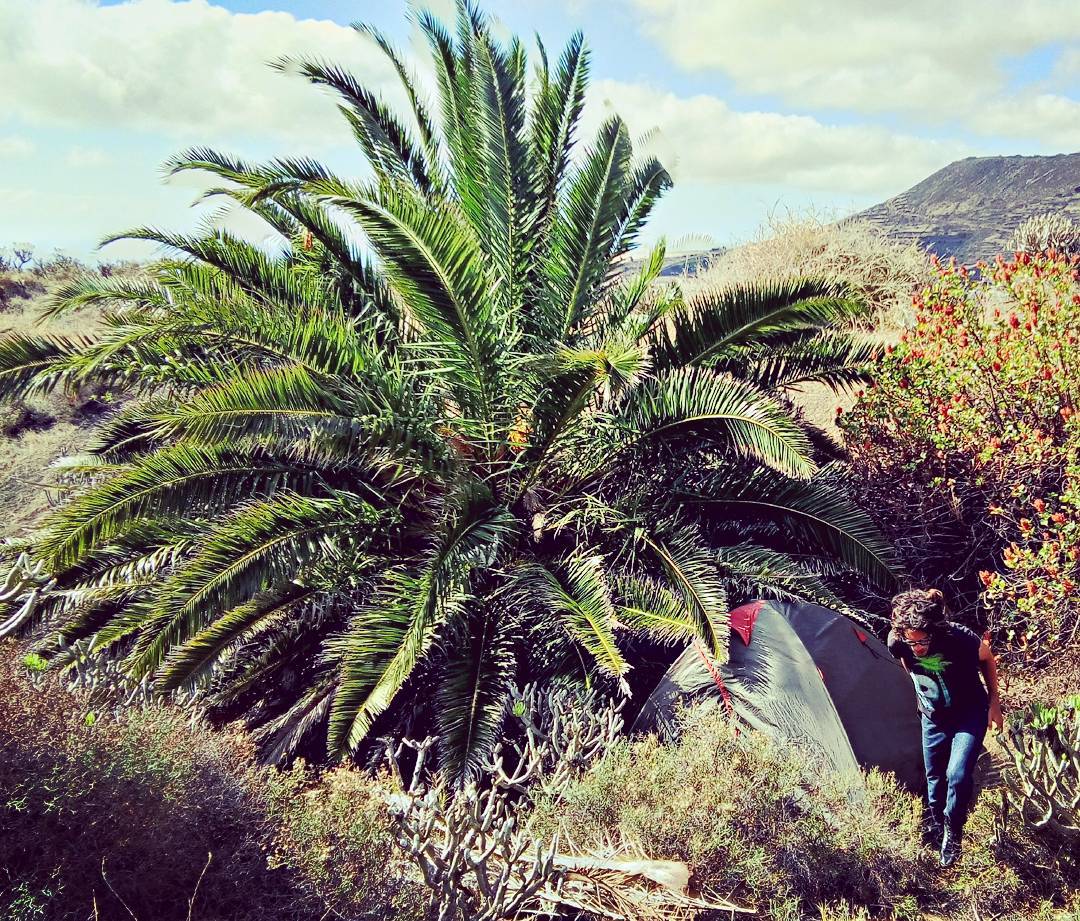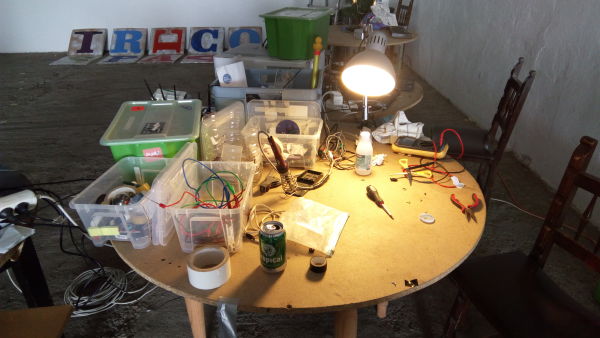 ¶
CHT5-A (2017/Jan, Feb)
[###pics:cht5a]
"Nomadic Maintenance Research Culture"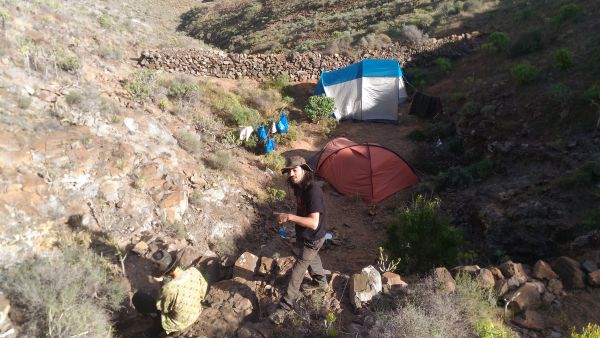 ¶
SEASON 6 (2018/2019)
* 🔗season6-A: CHT6-A + CHT6-B (2018/Nov — 2019/Mar) * 🔗season6-C: CHT6-C (2019/June, July)
¶
SEASON 7 (2019→CURRENT)
* 🔗season7-A: CHT7-A + CHT6-B (2018/Nov — 2019/Mar) * 🔗season7-B: CHT7-B, 7-BF, 7-C, 7-D (2020/Jan — 2021/Oct)
¶
General info * First: 🔗contact the base to say hi! → info@totalism.org * The base is open to everyone — not only computer programmers:
>200 people have stayed at the base, with a ~5-10 active average, and 15 maximums.
Anyone can stay here on a micro-budget, build up and use the lab and workshop, co-curate the e-archive of books, films and music, hang out, focus on your projects, and connect them into the general theory/practice of the space. Includes great local food, the weather and the nature (ocean, volcanoes and desert).
* Study the 🔗newcomers and 🔗idiots-guide documents * You don't need to bring any equipment beyond the most personal things:
See → 🔗stuff
* Find a cheap flight:
Canary Islands have well-connected airports. Typical EU cheap flight should cost 30-100€. Check
Skyscanner
.
[ img:
https://totalism.org/pics/databox_subfinance.png
|200px] (Historic 30-day costs per person)
* If you have any questions, just ask.
¶
Base economics
Mutualism - Communism
The base minimizes dependence on money, and so the need to do work for money, and so maximizes ability to do what you need to do.
For a simple explanation of the complete finance/organizational picture, see → 🔗puzzles.
All costs are shared, consisting of consumables, and long-term equipment & maintenance expenses. Everything is immediately consumed or invested — there are no profits or wage for anyone.
Full costs are
~100€ PW / ~400€ PM
— including place to stay, food, power, water, tools & investments, etc. There is a chance for a
reduced rate of 250€ PM
(if you are broke, unemployed, and break nothing).
You can earn this with labour within the
🔗coop
.
The space owns
🔗stuff
and tools that is shared and can be used by anyone.
Currently buying:
🔗ordering
.
If you have paid work, please consider making a financial donation → 🔗donate.Donations are immediately spent on new equipment — see 🔗orderingFor over-the-top details about accounting, see 🔗subfinance.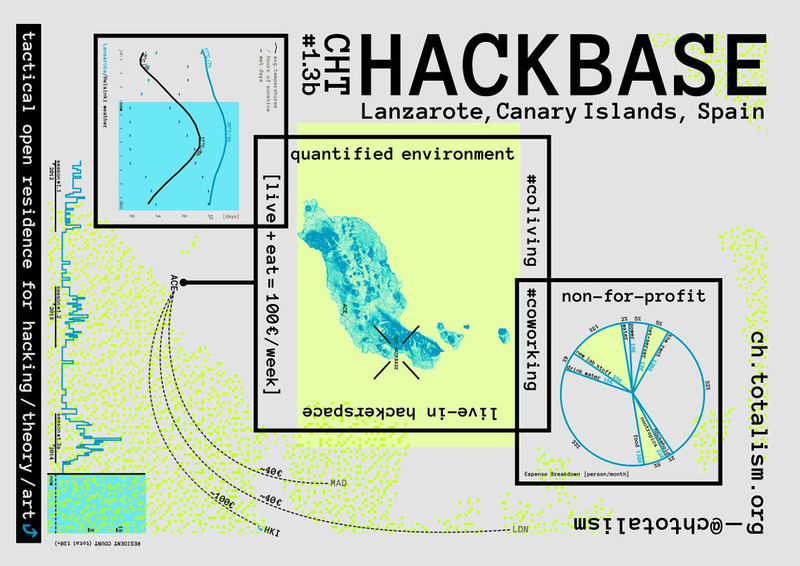 ---