This event ended. See next.totalism.org !
CHT 6-A
Nov 20 - Dec 20 2018
CHT 6-B
~Jan 12 - Feb 20 2019
The CHT (HACK)BASE is ... An open-to-everyone nomadic camp in Lanzarote, Canary Islands
, focused on creating new & deploying existing
free technology, tactics and art
. By rethinking and disentangling the dependencies on the primary society, the goal is to create a functional technical and organisational recipe, an infrastructural blueprint for replicable spaces that not only provide subsistence freedom to the participants, but enables them to labour towards a general systemic transformation of natures and cultures.
Everyone - not just "technical hackers" - is welcome
, and can contribute in many different ways - as a practitioner, curator, researcher, organiser, etc.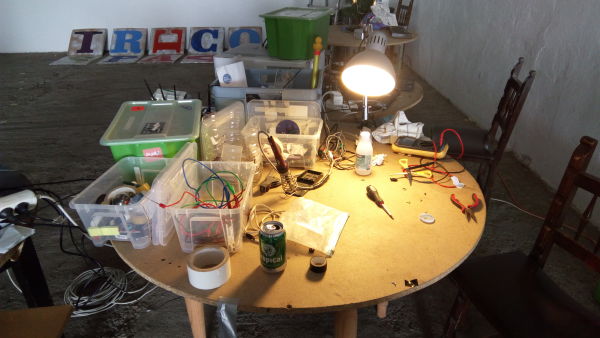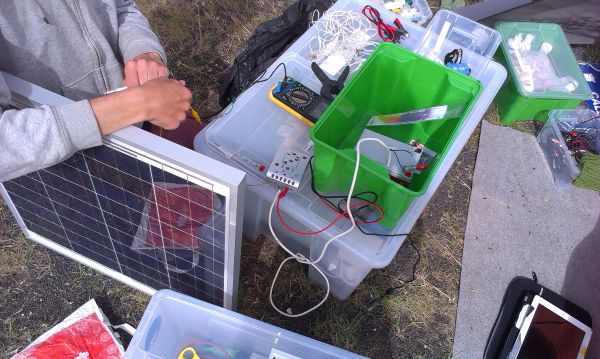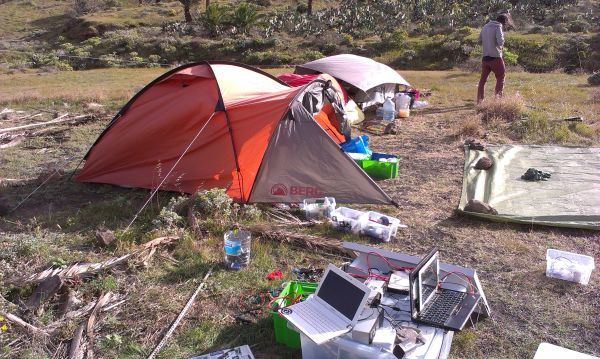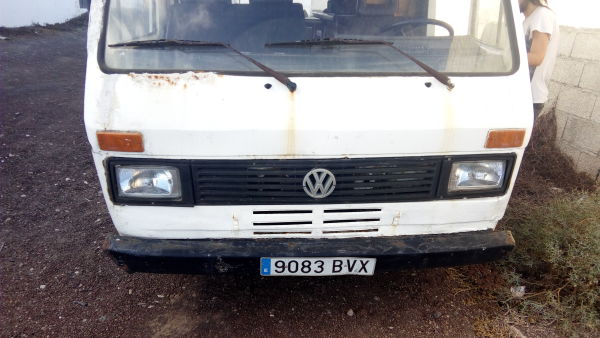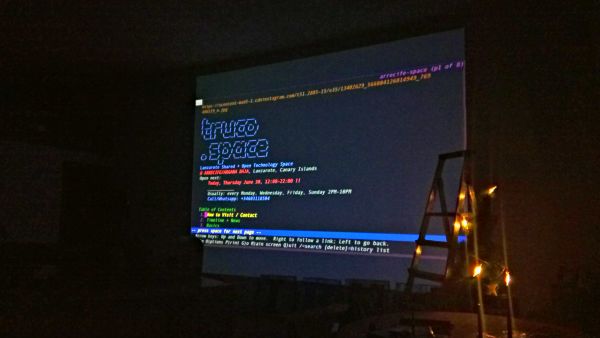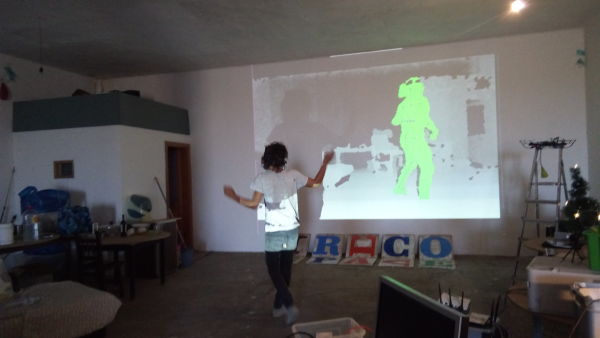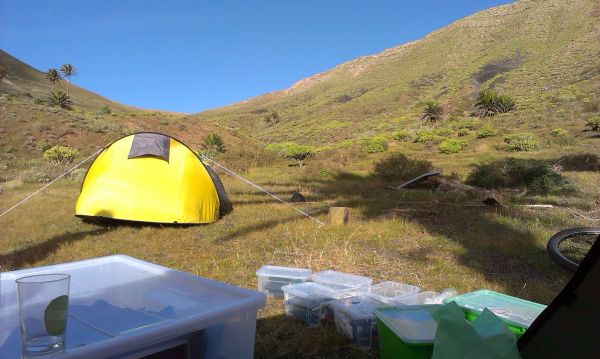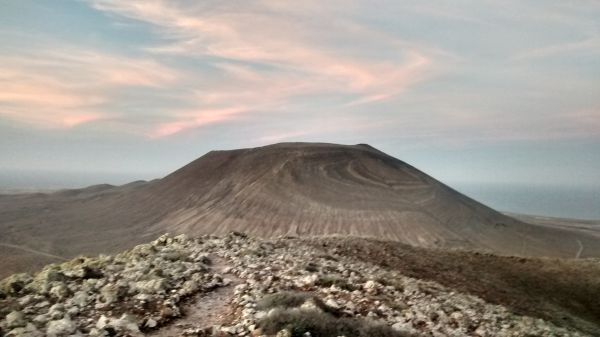 Basics about the CHT hackbase lab in Lanzarote:
*
https://totalism.org
*
🔗idiots-guide
*
https://totalism.org/newcomers
Last camps:
*
https://totalism.org/season5-A
(Jan, Feb 2017) *
https://totalism.org/season5-B
(Nov, Dec 2017)
*** STATUS REPORT
* Previous camp,
🔗season5-B
, was in December 2017.
* There will be new gear :)
* The project's van, 🔗trucko, is "stored" next to a friend's house (Mancha Blanca village).
It contains all of the project's
🔗stuff
. It's not road-ready (brakes don't work + no ITV = technical certification). The van needs to be moved (there since November 2017), because cops don't like that it's there.
But that's OK - we want to fix it anyway and put it on the road.
See
🔗trucko-new
for lots of details on current work.
*** RESIDENTS
If you'd like to join or collaborate, see 🔗planning.
>d : consider transclusion
*** Project (Archive - DEPRECATED!)
THIS SHOULD DOCUMENT:
* NEEDS / DEPENDENCIES * PRIORITY * [...]
_____
__________
_______________
Projects have been updated
See newer version:
-> 🔗projects !
_______________
__________
_____
General
* Infrastructure development & documentation (🔗tech-tree-new):
* advance subfields: architecture, energetics, washing, studio...
* read, re-write and publish existing documentation !!!
* Raise money & buy new stuff
* Share media and data
* Hang out, read books, drink wine, eat good food, swim in the ocean
Project list
Also see: 🔗todos, 🔗season4, etc.
* Make a lab @MB1 base (Mancha Blanca)
* Reorganize project equipment (🔗stuff):
* (to fit in the van better)
* Buy more Ikea boxes ! #ordering
* Find better ways to group by contexts of usage, and document this
* Try connecting more with locals - organize:
* regular weekly events, like:
* WED: hack-together in library
* SUN: generator party (generator + projector + loud sound = desert film/music)
* one-time events:
* technical workshops, see
🔗teaching
* public presentation of camp, as site
* public presentation at cultural venues
*
[...]
* Buy some new tents and 🔗solar power things * develop the music studio - play and record more!
* maps & navigation development:
* use new software parts we've developed, see
🔗dev-maps
* move away from Google MyMaps !
* build more electronics?
* rewrite 🔗newcomers:
* get clear info about:
* physical condition (can you bike? walk a lot? carry weight?)
* camping priorities (fun to learn? want to do extreme? only if very comfortable?)
*
[...]
*
[...]
* Rethink 🔗projects page * Build more textile structures
* Work on tents tech (Pau) -->
🔗hypertent
* upkeep and document the 🔗lights system
it should work ...?
* upkeep: generator:
should run? ... but hasn't since 2016?
needs to be better documented !:
(think I have somewhere?) >david which oil, etc... need to buy oil, gas, ...
* upkeep: drone:
* order & install new engines
* learn to fly in auto-mode :)
* TODO: check legality:
find the zoning documentation (some corridors are more strict than others) >david
* upkeep: DC-regulation electronics !!!:
Some stuff broke last time!
We still have atleast one buck/boost !
Need to put in a proper box etc
Should document under
🔗solar
!
* Visit Fuerteventura (the closest other island) with van * improve: protocol about where to set camp?:
1) develop landsites to reflect all knowledge
2) deciding? probably voting.
prepare residents for these situations !:
"you'll need to carry, walk, bike, hitch this much..."
* advance the cooperation with the local governments:
* we started talks during CHT5-A
* offer:
* workshops
* art
*
[...]
*
[...]
<-------- add new project ideas here
*** SCENARIO
What to do after landing?
LEGEND:
* Go to @MB1 base - the van is nearby:
MB1 is in Mancha Blanca village.
* get picked up form the airport or hitch
* get ready to stay here for a few days, set up a lab * check van state:
(hope it's not robbed or something)
* get things from van (~5min by bike from MB1):
DEPENDS ON HOW LONG WE ARE STAYING, WHAT WE PLAN TO DO !
_______________________
in every case:
* extra laptop
*
[...]
if camping:
* basic camping subset
*
[...]
if staying longer:
* projector, sound
*
[...]
* Tow van to the workshop:
Will cost ~50€.Do before taking it:
* Paint it with white spray paint:
(so it doesn't look like total shit for the workshop)
* Remove cargo (if we need to???):
>david ask them
*
[...]
The van can stay at the workshop while it's getting fixed (we checked).
They can also keep the van there for some time (2 or 3 weeks no problem) while additional needed parts are shipped.
See 🔗trucko-new for very detailed work plans about this.
#contingency: "I don't want this van here, take it out of the workshops"
(Van workshop resolution)
The van is there:
* make a general check
* how long will it take to fix it ?
* are any other parts needed?:
order them directly to the island!
(BARRIER OF UNCERTAINTY)
A) Van gets fixed quickly
See 🔗trucko and 🔗trucko-new if you want to know (too much) details.
So it turns we will be able to fix it in the shop, in 3-7 days, and register it.
NO PROBLEM, will be easy if it's movable.
Main tasks:
* mostly, fixing both brake systems * registration + technical certification (ITV) * insuring it >pau: A) Insurance is cleared before arriving on the island.
B) It's not, and requires direct contacts (like, signing stuff) with local administrations:
* where? * how long it takes? * is there someone to support language barrier on site? >pau
*
[...]
B) Van fixing gets complicated
(Fail conditions):
* Something goes terribly wrong in the workshop (they can't / won't fix it)
* we can't register the car (bureaucracy problems)
* it does not pass ITV and couldn't be fixed
* it's way too expensive to be fixed (1000€ is "still okay").
*
[...]
Scenarios for van:
B1) find a new location for storing it, and fix it at some other time B2) consider selling / trashing it & need new storage place for stuff
* offer to buy for 1000€ (for a "hotel") * "Africans working on the market would buy it for 2000€ immediately"
* Different base options!
Focus on achieving projects.People might be coming and going based on their priorities.
A) Type 1 (share space in a house, @ MB1):
(See
https://totalism.org/hackbase-type1
for details.)
How to not get bored there?:
* besides drinking and grilling :)
* sometimes, some fun and cool people come!
Ask:
* Can we make an auxiliary / "test" camp just outside, with all our stuff? (That would be great)
* Who would we need to ask? (>blaz >bea ? >authorities?) ........ >david
B) Type 2 (backpack OR bike-carried camp in the wild):
(See
https://totalism.org/hackbase-type2
for details.)
What would be the goals?
-) They've proven quite difficult. We have plenty of problems-to-solve knowledge. +) That's kind of the point of CHT Type 2. #nomad
Many different camp options: * La Graciosa seems best option. Try to repeat as it's really nice. * Focus on buying more bikes and do a bike camp - this hasn't been done before. * Squatting some house would be good too.
* Northern part of the island (under cliff, next to La Graciosa, but, something is built there now?)
* the deserty Fuerteventura (neighbour island) for the first time! (30€ roundtrip)
*
[...]
C) Prototype Type 3 base (camp next to, with support from, existing house):
(See
https://totalism.org/hackbase-type3
for details.) C1) Find a new local to collaborate with: We want:
* camp on your land
* use things (electricity, water, washing machine, ...)
* store our things for some months
* borrow car
In exchange:
* just hang around and be cool (for somebody who likes this project)
* pay (up to 5€ PPPD)
* help with planting / constructing / other skills
*
[...]
C2) Do it @MB1 or very near:
get permission from X ?
C3) Actually buy land:
* still far-fetched ! ... see
🔗season4
for details
* Could at least do some steps in this direction !
D) Split up, and do whatever:
Stay at MB1, rent places, do couch surfing, travel to other island, ...
S) Occupy [2018-12-03]
Lots of abandoned houses spotted.
This has been a past consideration in the North camps.
__________________
Also possible:
* attend "TENERIFE COLABORATIVA" conference:
http://www.tenerifecolaborativa.com
November 28 - December 1 (Gran Canaria / Tenerife)
*
[...]
*** MISSING PIECES / OPEN QUESTIONS
* what to do with all the cargo in the van, while it is fixed?:
A) can stay inside
B) we have to move it out to MB1
-------------------- >david
* clear up priorities and tasks for people:
* ask: "what do you want to do"?
* rewrite
🔗newcomers
, assign
🔗roles
in advance ?
* have clearer
🔗todos
, also see projects above!
--------------------- Using: * You will need a hypothes.is bookmarklet, see
https://web.hypothes.is/start/
* Join the CHT6A group:
https://hypothes.is/groups/iBdNr1xp/cht6a
>residents
* Rethink the Lanzarote lab: #APPROACHES * What is the value of the hackbase as a nomadic lab?
* What would it take to get more people who could contribute here?:
* Internet
* Comfort
* Better recognition with locals
* More stuff
* Clearer projects
* Regularity
*
[...]
*
[...]
*
[...]
___ ADD ANYTHING BELOW THIS LINE, OR ANYWHERE ELSE: [...] ___
*** IDEAS
TO ADD: ---> [...]
* surfing (nace)
* renting a car (nace, anze)
* catching flight ~nov 20 from slovenia together (david, anze)
* #laptop -- doing lenovo thinkpad x workshop (david)
* make a graph-meme bash:
* "# view at
http://totalism.org:7777/glia2?input=graph-1&sinkFormat=graph/png
"
* #TODO: redirect as "graph.totalism.org/graph-1"
*
[...]
* secure van better !!! #trucko
cat v1-newcomers.txt | grep "\[\]!" -C20
#sponsors
ask for dome kit !
https://buildwithhubs.co.uk/thekit.html
* could be used for 35c3
* 2 for 1 :
maybe with the Ecohackerfarm people?
they supply wood & then have it there?
so the deal:
* one paid, one get
* 35c3 build
* ecohacker farm perm build
* cht builds
>david
* call for "Slovenian tour guide" job on Lanzarote :D
+34 650 98 91 40<------------: that's Yaiza's number. You can text her on whatsapp. Just say I'm David and that you are a native Slovenian and Goretti gave you her number
Tasks before landing:
See 🔗season6-A-pre for some more details, if you want to help out.
If you have access to Internals - also see CHT🔗cht6a !!!
<--------------------------------------------- (new) above
---
(Site generated by E2H, an "Etherpad hypermedia" project by @dcht00).

This work is licensed under a Creative Commons Attribution-NonCommercial-ShareAlike 4.0 International License.