Type-2 Hackbase:
"Nomadic resilient base"
< DRAFT+ >
< REVIEWING+ >
People living & hacking in portable architecture (tents, etc)
Part of 🔗hackbases.
More → info@totalism.org
Revisions:
2016-12-29 33c3 (stub v2)
2017-02-23 ejected 🔗hackbase-type3 ! 2017-09-22 merged-in from 🔗base-eu
2017-10-09 cleanup
2020-08-20 re-importing + currently overviewing ...
¶
How it works
* People living & hacking in portable architecture (tents, etc) * Deployed:
in nature, or in cities
in and around hacker festivals / camps
* Financed with use contributions, and (cash, equipment) donations * Stored or sold away after use
:
parts left in different places, recomposing, adding up
* Moved into place for next deployments
¶
Example: CHT4-C (2016-Feb, Mar)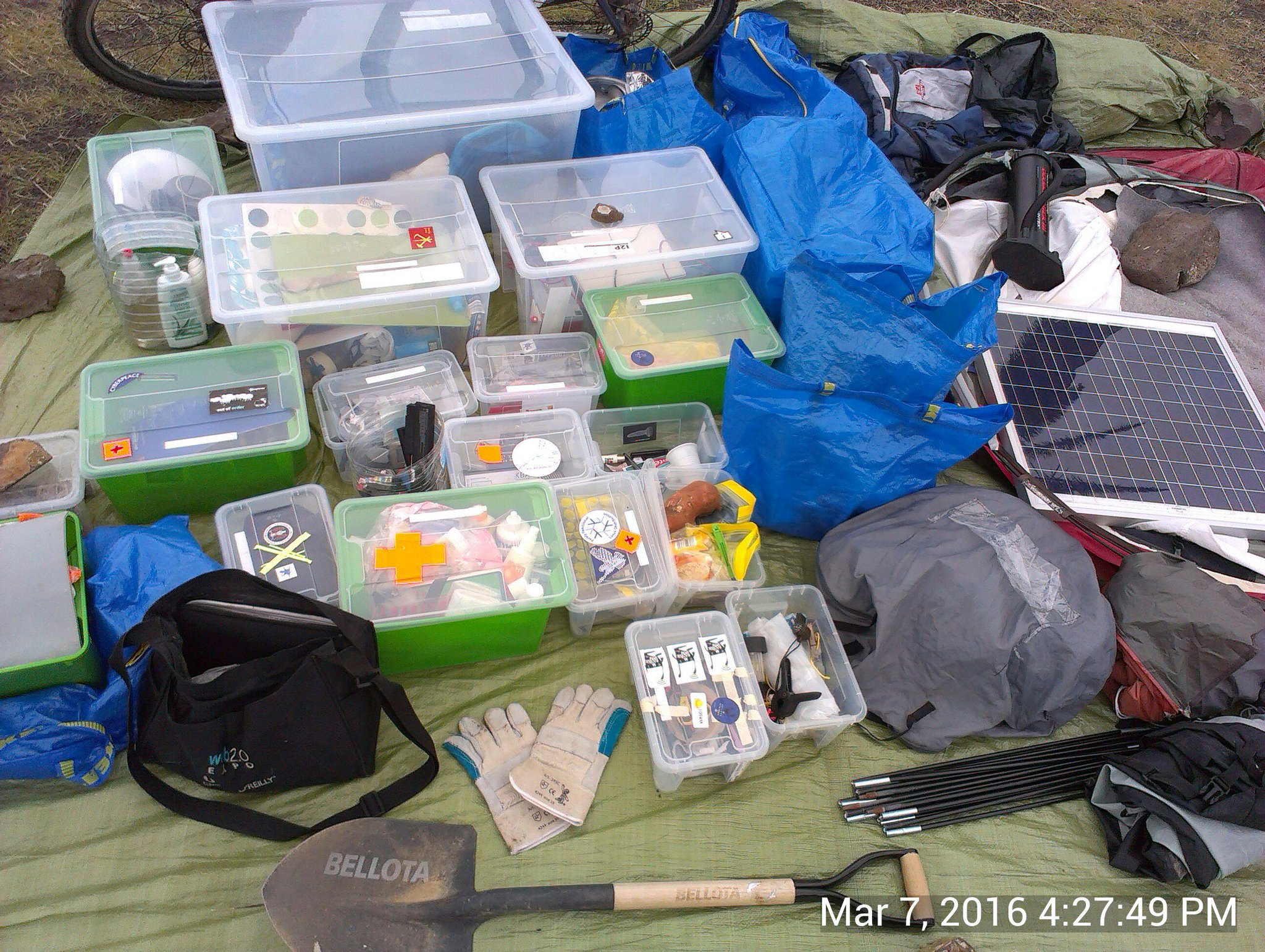 (Packed up.)
¶
Design targets
Budget:
1000€ (but can already start with 300€)Size:
1 ISO palletWeight:
50-100kg
¶
Others
* Nomadic peoples around the world:
"It is estimated that there are about 30-40 million nomads around the world."
*
* Hacker camps attract thousands of people yearly, with hundreds of crews
:
→
🔗calendar
* People interested in survivalism, high-performance camping, bushcraft, etc:
→
🔗camping
_______________
However:
These setups are not hackbases.
They do not invite open participation, etc.
¶
*** PROTOCOLS
### merge with 🔗flocking stages !!!
(2017-10: graph just a sketch, also the main documents covering this need a re-ordering)
¶
* Get people involved + find initial funding
#TODO
see:
* 🔗flocking
*
🔗pr
funding:
* How to cover initial investment? Maybe ICO?
* How to secure maintenance budget (running costs)? What to do if the base goes bankrupt?
* How to effectively re-fund the base for new deployments?
*
[...]
¶
* Move boxes to location (Logistics)
Reference shipment quote:
via
http://www.pallet2ship.co.uk
* Europallet = 100x100x100cm, 100kg
* Berlin -> Guildford (UK), location of EMF camp
* = ~200€ + VAT
looks that's too much
Some equipment would better be not shipped, but bought on site:
* very heavy/big stuff (like: batteries)
* very breakable stuff (like: solar panels?)
Perhaps logistics in itself is a mistake:
*
"Always strive for replication, not for transportation"
* The end tab should be picked up by local people, and so a new "hackbase seed" started
* This would need a unique system of funding
<--- #subfinance
Alternative ways:
* People already going there, helping to transport ("hitch-hiking logistics")
*
[...]
!!!
¶
* Storage
"Where boxes are during downtime".
It's currently an annoying and recurring problem for the CHT base in Lanzarote, as well.
This ties to #vaults.
Options:
* buy a van:
(what CHT did with
🔗trucko
)
* weather-proof + bury boxes underground
* separate into parts / modules (boxed up anyway), and disperse around different people
* deploy as a local hackerspace ("active storage" pattern)
* #vaults, an european network
*
[...]
Storage is simpler, as the base prototype/model is improved: * WEATHER-PROOF:
capacity to be stored outside or buried underground:
(this now supposedly almost works, since #cht4c)
* more compact, lighter, etc:
(needing less space, easier to move around by anybody on the ground)
* better appearance:
(so it can be stored in somebody's living room)
And also as:
* the network improves (#vaults)
*
[...]
¶
*** GENERAL GOVERNANCE
Open questions:
* How to make decisions about where the base goes next, etc?
* What constitutes deciding power?
*
[...]
Protections for stewardship-transfer:
* The model must not be a "no-profit pre-assembled & optimized all you need pack" ending up in the hands of bourgie campers
* New stewards must commit to maintaining the openness:
in some way, a GPL-like transitivity
* so: bases should not be bought and sold as "speculative commodities" !
I guess this opens the space for a "hackbases foundation".
¶
"USEFUL HACKERS TEMPORARILY PRESENT ON TERRAIN"
via CHT🔗cht4c3-2 ...
#unwritten
#typology
so:
(int):
* these are modes of hacker being
* based on actual things you can do on the side (~10-20h/week)
* that are cool ("agree with you")
* sensible, agreable work
* ... that you need to be on the land for
(ext):
* cleaning up trash (plastic, construction leftovers, hunter bullets, etc)
* herding ("hacker cowboys") would be good for the land
* "forestry": cleaning up wood, invasive species control, etc
* terraforming: planting trees, terrain modifications, etc
* water + aquifier management: canals, aljibes, etc
* biology & other field science research
---------------------------------
#meta
this typology, as all, needs:
* a WORKFLOW with tactical tools
* totalist awareness of complete environment ("don't pick a random valley")
* totalist (complete) environment awareness:
* location selection
* contingencies
*
[...]
* processes / methods
¶
first nature / second nature / third nature
via CHT🔗cht4c3-2 ...
#unwritten
nature logics:
* VISIONING different NATURE LOGICs on a "google earth"-like terrain
* studying different ones
* IMAGING
* biology <> geology <> arcaeology : "what/how was this piece of land 1000 years ago?"
¶
FOCUS ON PUBLIC LAND
via CHT🔗cht4c3-2 ...
#unwritten
#important #catastro
#landsites
so:
* some land is public
* land register is private
* the information which land is public (municipality, country, etc) owned should probably be public as well?
--------------------------------------------------------
#toresearch
How ownership/interest here would be represented and legally enforced (who'd care to report?, etc)
¶
#forestry Responsibilities
via CHT🔗cht4c4-1 ...
So:
* Who takes care of the trees on private lands?
* ... trash?
* if the wood is not put away, doesn't this increase wood parasite growth etc?
*
[...]
-------------------------
#tomeet +medioambiente discuss this!
¶
Standard template for Log
via CHT🔗cht4d-log ...
1408- * FAILS of the day
1409- * rest / camp situation
1410- * food !!!
1411- * environment monitoring / quantification:
1412- * animal / ufo sightings
1413: * trash sightings (in natural/cultural context)
1414- * stuff worked / hacked on (software, etc)
1415- * moods
1416- *
[...]
<-------------------------------- ((new))
---