ALIKE? RELATED INITIATIVES AND PROJECTS
(To the totalism.org hackbase)
curated by
@dcht00
, and
open editable
#Hackbases #nomadbases #free-living #nomadic #nomads #digitalnomad #hackerspaces #camping #collaborative #guerrilla-gardening #green-tech #sustainability #permaculture #hexayurt #yurt #earthships #coliving #residencies #bases #infrastructure
Table of Contents
| | |
| --- | --- |
| 1 | Outline |
| 2 | General on *bases |
| 3 | List of lists |
| 4 | TYPOLOGIES |
| 4.1 | * Hackbases |
| 4.2 | * Nomadbases |
| 4.3 | * TAZ/PAZ (temporary/permanent autonomous zones), Squats, Social Centers |
| 4.4 | * Artist / theory residencies |
| 4.5 | * Coliving spaces |
| 4.6 | * Eco villages |
| 4.7 | * Intentional communities |
| 4.8 | * Kibutzes, Monasteries, Ashrams, ... |
| 4.9 | * Punk houses |
| 4.10 | * Freetekno scene |
| 4.11 | * Mobile nomadic groups |
| 4.12 | * Temporary camps |
| 5 | LIST: ACTIVE |
| 5.1 | Totalism Hackbase [Lanzarote, Canary Islands] |
| 5.2 | PAF ("Performing Arts Forum") [St Erme, France] |
| 5.3 | Calafou [Vallbona d´Anoia, near Barcelona, Spain] |
| 5.4 | Tokyo Hacker Farm |
| 5.5 | Infinity Hackbase ("Ghoomakad") [Dharamshala, India] |
| 5.6 | Apollo-NG [Mobile hackbase, based in Germany] |
| 5.7 | Factor e Farm / Open Source Ecology [Missouri, USA] |
| 5.8 | Sailing the Farm [Norway + sailboat] |
| 5.9 | Kuckucksmühle ("KuM") [100km NW of Berlin/DE] |
| 5.10 | ResidenceSEA [Crete, Greece] |
| 5.11 | Alg-A Lab [Valladares, Spain] |
| 5.12 | Firefly Hackerspace [Wyoming, USA] |
| 5.13 | MS Stubnitz [ship currently docked in Hamburg/DE] |
| 5.14 | Lakabe village [Lakabe, Spain] |
| 5.15 | Bought Island, via Tynan [Nova Scotia, Canada] |
| 5.16 | Tamera [Portugal] |
| 5.17 | tocadocoelho [Portugal] |
| 5.18 | Rainbow Mansion [Silicon Valley, USA] |
| 5.19 | Marinaleda [Andalusia, Spain] |
| 5.20 | Unmonastery [Athens Greece, ?] |
| 5.21 | Boodaville [Mallorca, Spain] |
| 5.22 | Omni Commons [Oakland, California, USA] |
| 5.23 | S14 [Antwerp, Belgium] |
| 5.24 | Can Masdeu [near Barcelona, Spain] |
| 5.25 | Kanthaus [Wurzen - near Leipzig, Germany] |
| 5.26 | Traumschule Riebau [Altmark, Germany] |
| 5.27 | Synergie Hub + Décentrale [Mont-Soleil, Switzerland] |
| 5.28 | Eotopia [Saône-et-Loire, France] |
| 5.29 | Aurora community [Romania] |
| 5.30 | Nomadic Village [mobile tribe in Europe] |
| 5.31 | Ecoaldea [Cabeceiras de Basto , Portugal] |
| 5.32 | The Internet Farm [Dahmetal (80km south of Berlin), Germany] |
| 6 | LIST: TEMPORARY |
| 7 | LIST: PLANNING |
| 7.1 | Reset Society [Malaga, Spain] |
| 7.2 | No Mad Island [Isla Tesoro, Panama] |
| 7.3 | Earth SkyLab [Portugal?] |
| 7.4 | Project Nomadland.org [south Spain?] |
| 7.5 | Reddit Island |
| 7.6 | The RBE10K Project |
| 7.7 | ProtoTribal [Arizona, USA] |
| 7.8 | Digital Nomad Eco-Village |
| 7.9 | Antwerp Collective |
| 7.10 | UnSystem "Opensource City" |
| 7.11 | Venus Project |
| 7.12 | Kraftwerk1 [Zurich, Switzerland] |
| 7.13 | Genesis.Re |
| 8 | LIST: DEFUNCT (?) |
| 8.1 | Hacker Halfway House [NYC, USA] |
| 8.2 | Casa Robino [Amsterdam] |
| 8.3 | Banana Berlin |
| 8.4 | Emerging Leader Labs [NY, USA] |
| 8.5 | Kovalam Ezhuthu Kalari / KEK [India] |
| 8.6 | Building Man [UK?] |
| 8.7 | Nomadbase Lisbon [Portugal] |
| 8.8 | Nomadbase.Eu [Borislavtsi, Bolgaria] |
| 9 | LIST: UMBRELLA ORGANISATIONS |
| 9.1 | The Mietshäuser Syndikat [Germany, ~100 projects] |
| 9.2 | Ecohackerfarm [Germany, ~2 projects] |
| 9.3 | Freiräume foundation [Germany, ??? projects] |
| 9.4 | Federation of Egalitarian Communities |
| 9.5 | One Community Global |
| 10 | LIST: RESEARCH ORGANISATIONS |
| 10.1 | N55 art collective [Copenhagen/DK] |
| 10.2 | ID22: Institute for Creative Sustainability [Berlin/DE] |
| 10.3 | Makrolab, by Marko Peljhan [Ljubljana/SLO] |
| 11 | LIST: MAILING LISTS |
| 12 | LIST: ONLINE GROUPS |
| 12.1 | IRC channels |
| 12.2 | Facebook |
| 12.3 | Others |
| 13 | ALSO SEE / NEW |
Outline
via
original post
(anonymous author) on Diaspora:
/"It seems like the whole nomadic inventor movement is taking off. For a long time now, creative people without profit motives haven't had the easiest time getting their ideas out there. That's all changing though. Here are a few places where a person could go, camp, meet like minds, and develop their ideas, all in open source, extremely low cost to money free environments. The camps have specific projects that they hope will benefit humanity and are also open to new open source projects and ideas. If any of you are or know someone creative that wants to learn to thrive off grid and make the world a better place by doing so, please share this post with them. :)"/Last updates:
* 2015-03-15 first stub * 2015-09-06 ping * 2015-10-29 merged in * 2015-11-13 touch * 2017-10 (a lot)
Missing resources / TODO / link up:
* the list +James.Lewis made during Banana times * matthias's nomadbase & eco village trip/study site * david's fragmented notes * this document should soon be partially auto-generated from 🔗maps𝌡 * [...]
Also see:
*
Hackbase Architecture Facebook group
*
🔗hacking-housing
𝌡
: Urbanism Law vs New lifestyle approaches]
*
🔗intersub
𝌡
: Systematic approach on how to operate with other groups/institutions/individuals, in the context of a common struggle, beyond arbitrary / whimsical relations
*
[...]
General on *bases
*
http://wiki.hackerspaces.org/Hackbases
:
hackbases are live-in hackerspaces, like residencies for hackers and people interested in technology (but also other things!)
*
http://sharewiki.org/en/Nomadbase
:
"A nomad base is a shared living space where all inhabitants can feel like hosts or in other words: 'at home'."
*
http://nomadwiki.org/en/Nomad_Bases
:
"A nomadbase is a communal living space, whose main purpose is to give long-term travellers the opportunity to have a place they can call home for free and without long-term obligations, where they come to (and leave) whenever and as often as they want. It is a place where they are not guests, but flatmates, no matter how long they stay."
*
http://www.shareable.net/blog/every-guest-a-host-inside-a-nomad-base
*
http://www.deskmag.com/en/OuiShare-Fest-experiment-coworking-coliving-hackerspace-towards-new-lifestyles-beyond-the-border-lif
*
http://www.huffingtonpost.in/2014/12/07/tech-jobs-off-the-grid_n_6266578.html
*
[...]
List of lists
More hacker related:
*
http://wiki.hackerspaces.org/Hackbases
:
Curated list of hackbases
* Hackerspaces.org residencies:
http://wiki.hackerspaces.org/Residencies
:
(auto-generated on hackerspaces.org wiki)
* HackerCouch:
* "Pledge your couch to hackers! Fork this repository and put in your couch and/or travel info."
*
http://hackercouch.com/
(New! October 2015)
*
http://github.com/jancborchardt/hackercouch
*
🔗maps
𝌡
:
London, Paris, Berlin, Hamburg, Brussels, Amsterdam, Helsinki, Ljubljana, ...
*
https://numundo.org/centers
AirBNB for transformational experiences
A lists of lists:
*
"Nomad bases - shared hospitality map"
* Nomadwiki:
http://nomadwiki.org/en/Initiatives
http://nomadwiki.org/en/Nomad_Bases
http://nomadwiki.org/en/Intentional_Communities
http://nomadwiki.org/en/List_of_ecovillages
*
http://ic.org
:
big intentional communities listing, mostly USA
*
http://en.wikipedia.org/wiki/List_of_intentional_communities
*
http://ecobasa.org/en/communities/
:
European Communities (gift economy)
* GEN ecovillage network (big worldwide list of eco-villages):
https://ecovillage.org/projects/map/
(worldwide map / list)
*
http://freeculturalspaces.net/the-web-of-hubs/
:
newfound 2017-10
*
http://wikitown.wiki/Links_%26_Affiliations
*
http://web.archive.org/web/20140307113459/http://bwcd.vdcn.org/doku.php/links/similar_projects
archive of similar projects to "BWCD". pretty good overview.
*
http://dsrp.eu/
+
http://decentralize.hackpad.com/Iternary-2016-gfjSSjeTTj3
* Big map of permaculture projects in EU:
http://gogreenbuddy.com/projecten/
*
https://numundo.org/
Global map of ecovillages, intentional communities, permaculture farms, social projects, and retreat centers.
*
http://nomadsmagazine.org/?page_id=950
*
http://wikitown.cc/index.php/Networking
(down)
*
http://ecodorpennetwerk.nl/kaart-alle/
:
Dutch eco-villages
*
http://www.google.com/maps/d/u/0/viewer?mid=zCUrDZ_sv7Fw.k9HCrqv3hIVA&hl=fr
:
French map
*
http://gen.miraheze.org/wiki/Links_Resources
:
genesis.re similar projects (Tech focus)
*
http://village.creativechoice.org/map/
:
"On this map we are sharing locations that could be interesting for groups creating a sustainable village."
(Spain, Portugal)
* sharing.isgiving.com community map:
* Complete overview of Spain, Portugal, France, Belgium; also other EU
*
http://sharing.isgiving.com/
(the map)
*
http://www.souls.life/community-map-from-www-sharing-isgiving-com/
(alternative link)
*
new entries
*'Spare Place' map of British arts and co-work spaces:
http://www.spareplace.com
* Awesome Digitalnomads list
*
http://github.com/kevit/awesome-digitalnomads
*
[...]
TYPOLOGIES
(Note that typologies are always rough, and especially progressive spaces will always be several at the same time but none really.)
* Hackbases
(e.g. CHT, Infinity Hackbase)
(see
List of hackbases
)
* Nomadbases
See
http://nomadwiki.org/en/Nomadbase
* TAZ/PAZ (temporary/permanent autonomous zones), Squats, Social Centers
(e.g. Grow Heathrow, Calafou)
http://en.squat.net/
* Artist / theory residencies
(e.g. PAF)
* Coliving spaces
(e.g. Rainbow Mansion)
* Eco villages
(e.g. Tamera, Boodaville)
* Intentional communities
* Kibutzes, Monasteries, Ashrams, ...
* Punk houses
* Freetekno scene
(nomadic self-organised A/V groups organising temporary party autonomous zones)
(see:
Free parties
,
Teknivals
,
Freetekno
)
* Mobile nomadic groups
(e.g. Apollo NG)
* Temporary camps
(e.g. hacker camps,
protest camps
, ...)
LIST: ACTIVE
Totalism Hackbase [Lanzarote, Canary Islands]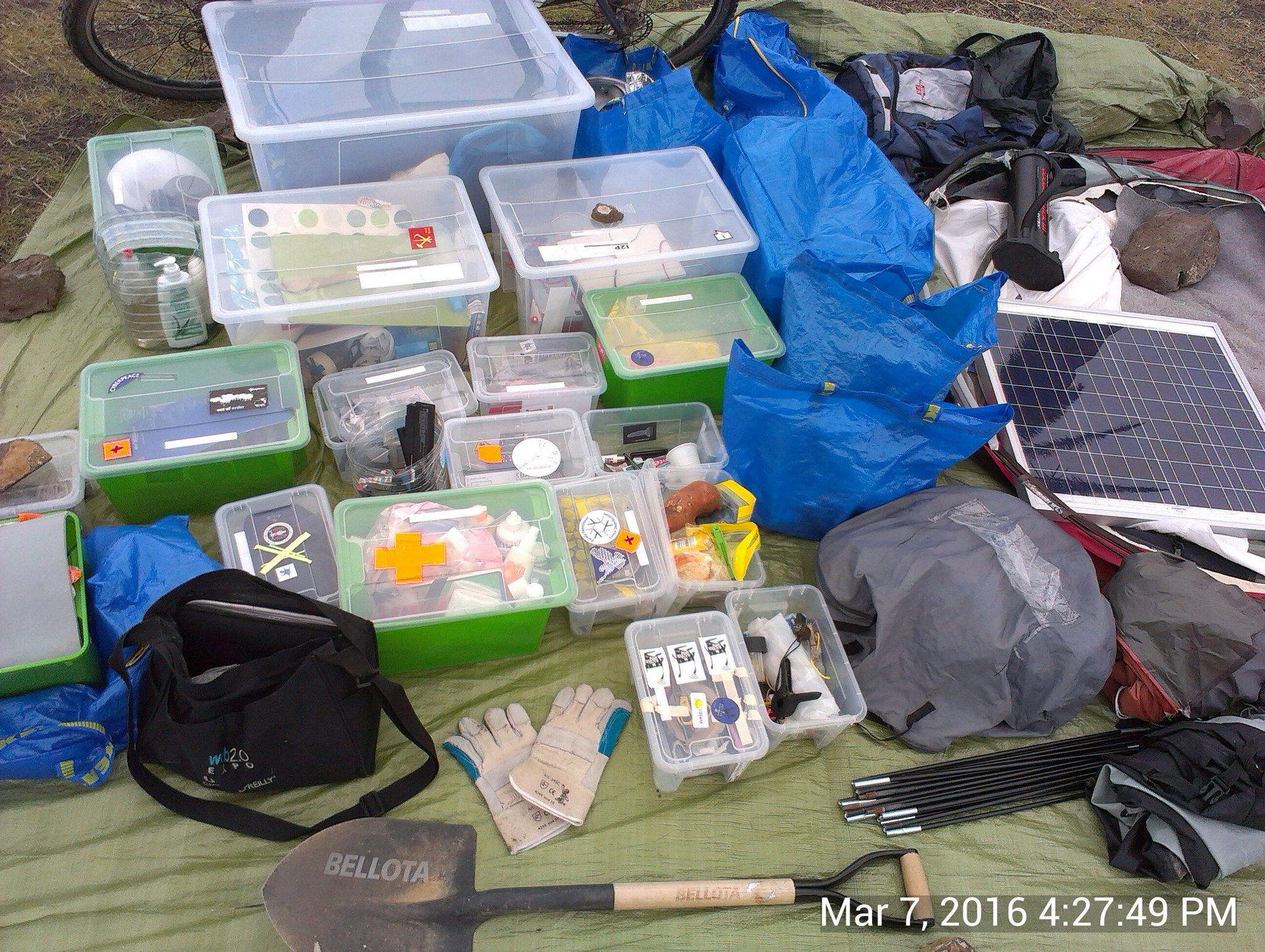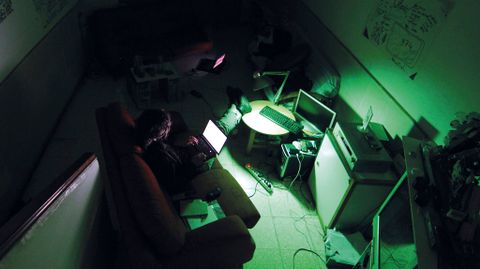 http://totalism.org/
(hosting this overview)
Focus:
* "a tactical, post-capitalism platform researching and building Hackbases (coliving hackerspaces), since 2011"
* "This hackbase is an infrastructure project designing and deploying a free living habitat."
* "Hackbases are live-in hackerspaces, the critically missing infrastructure to enable full-time vanguard technologist lifestyles.
[...]
hackers are subsumed by the life logic of current advanced capitalist societies
[...]
hackers with normal day jobs are powering a bullshit neoliberal political reality, which is destroying the pillars of dignified public life
[...]
These problems are as insufficiently addressed, and structurally cannot be solved by big corporate, startup, non-governmental or academic organisations, as well as by current hackerspaces."
* importance of infrastructure over community, research in off-grid infrastructure, management cybernetics & knowledge technologies, ...
* building a studio residence for recording bands
Status:
* free camping in transition period (2015) while choosing and buying rural land
* next camp: see 🔗planning𝌡
9/17
PAF ("Performing Arts Forum") [St Erme, France]
http://www.pa-f.net/
PAF is based in St Erme, 150km north-east of Paris, France, between Reims and Laon. PAF (=PerformingArtsForum) is a place for the professional and not-yet professional practitioners and activists in the field of performing arts, visual art, literature, music, new media and internet, theory and cultural production, and scientists who seek to research and determine their own conditions of work. PAF is for people who can motorize their own artistic production and knowledge production not only responding to the opportunities given by the institutional market. Initiated and run by artists, theoreticians and practitioners themselves, PAF is a user-created, user-innovative informal institution. Neither a production-house and venue, nor a research-center, it is a platform for everyone who wants to expand possibilities and interests in his/her own working practice.
9/17
http://nomadwiki.org/en/Performing_Arts_Forum
Calafou [Vallbona d´Anoia, near Barcelona, Spain]
http://calafou.org
a part of
Cooperativa Integral Catalana
(CIC) initiative
See:
*
http://www.furnessphotography.com/blog/on-the-road-welcome-to-calafou
*
30c3 congress presentation video
.
*
http://uk.businessinsider.com/crypto-anarchists-are-flocking-to-a-bitcoin-hacklab-in-spain-2014-11
9/17
http://nomadwiki.org/en/Calafou
Tokyo Hacker Farm
http://www.hackerfarm.jp/
"Hackerfarm is a place and its people, too. The place is located in rural Japan, about two hours east of Tokyo on the Boso peninsula. It's a cluster of buildings, a lot of shared tools, and a beautiful country setting. The people are a collection of Japanese and foreign tech hackers who've escaped from city life. We're working together on projects, making life richer for ourselves and for the community who have adopted us."
9/17
http://nomadwiki.org/en/Tokyo_Hacker_Farm
Infinity Hackbase ("Ghoomakad") [Dharamshala, India]
http://twitter.com/ghoomakad
Ties to:
* hillhacks @
http://twitter.com/hillhacks
* hackbeach @
http://twitter.com/hackbeach
9/17
http://nomadwiki.org/en/Infinity
Apollo-NG [Mobile hackbase, based in Germany]
http://apollo.open-resource.org/
"Apollo-NG is a mobile, self-sustainable, independent and highly-experimental Hackbase, focused on research, development and usage of next-generation open technology while visiting places without a resident, local Hackerspace and offering other Hackers the opportunity to work together on exciting projects and to share fun, food, tools & resources, knowledge, experience and inspiration."
Status: In development by +chrono
9/17
http://nomadwiki.org/en/Apollo-NG
Factor e Farm / Open Source Ecology [Missouri, USA]
A hackbase by
OSE
people, for working on that project.
http://opensourceecology.org/wiki/Factor_e_Farm
"Factor e Farm is a 30 acre parcel of land 1 hour away from the Kansas City International Airport in Missouri. In 2004, Open Source Ecology purchased this land - a blank slate that was a soybean field. Since then, we have been busy building infrastructure, using as much open source, libre processes and hardware as possible.
[...]
Factor e Farm is an experiment on many levels: natural ecology, industrial production, experimental research and development, immersion education, and a transformative lifestyle. Factor e Farm combines a lifestyle immersion in the world of open source hardware, and a goal of creating the open source economy. We are experimenting with what it would look like if a small group of people were able to achieve a full resilient lifestyle, by tapping solar power (direct and indirect) and appropriate industrial technology - to master infrastructure maintenance at no more than a few hours per year - to attain raw industrial productivity with appropriate, heirloom and modern technology - to ascertain production of food, housing, energy, and technology from local feedstocks. This implies significant technology, productivity and efficiency levels - essentially removing waste from the unstable model of centralized industrial production, and converting to a more congruent and ethical open source economy."
More:
*
http://vimeo.com/63937786
*
http://youtu.be/nr2xJbD49lo
* www.businessweek.com/articles/2012-11-01/the-post-apocalypse-survival-machine-nerd-farm
9/17
http://nomadwiki.org/en/Factor_e_Farm
Sailing the Farm [Norway + sailboat]
They just built a boat.
http://www.facebook.com/groups/138130436213451/
http://www.couchsurfing.org/people/sailing-the-farm/
"Interested in self-sufficiency? Want to help build a community? Love the sea? Our collective, on an organic farm a few hours north of Oslo, is for anyone who wants to learn and work hard. We grow food, boats and ideas, so if you have a knowledge or interest in permaculture, farming, boat building, or sailing, come and help us create a home that is sustainable both on land AND out at sea!"
9/17
http://nomadwiki.org/en/Sailing_the_Farm
Kuckucksmühle ("KuM") [100km NW of Berlin/DE]
Kuckucksmühle combines a hackbase and a self sustainable ecological community living. They settled in an centuries old water mill and its surrounding buildings in Germany (north Brandenburg, between Berlin and Hamburg).:
http://wiki.ecohackerfarm.org/kuckucksmuehle:start
It is one of the projects under EcoHackerFarm:
http://ecohackerfarm.org
9/17
http://nomadwiki.org/en/Kuckucksm%C3%BChle
(Association Documents)
ResidenceSEA [Crete, Greece]
http://maakali.org/ResidenceSEA/about/
"""Sensing your Environment through Art – is a residence for artists, organized by artists, which aims to bring artists and researchers to Heraklion, to dive into a creative and collaborative process with the environment and the community. ResidenceSEA aims to be a place for artists, researches, hackers and all creative people of the community to collaborate and exchange ideas, to experiment and create hybrid art works between art, science and technology.
We provide a studio/loft to live and work, opportunities for collaboration, assistance to document your process and project and a venue for presentations, happening, workshop and exhibitions. The space of ResidenceSEA is the ground floor of an old taverna on the beach of Heraklion just 10 meters from the wave line(see Space)."""
9/17
http://nomadwiki.org/en/ResidenceSEA
Alg-A Lab [Valladares, Spain]
http://www.lab.alg-a.org/en/
A cultural experimental lab underway since 2008. The property of 3000m2 is under a 10 year assignment. The aim is to offer the Alg-Lab as a remedy available to a distributed network of different people, communities and agencies (primarily related to art, free technology, to architecture, education and permaculture) interested in space for use and cooperative management. Meanwhile try to experiment and learn different ways of self-management and collaborative organisation, inspired by the dynamic spread of free culture and in P2P networks. Stay + board possible.
(hackerspace / hackerbase)
9/17
http://nomadwiki.org/en/Alg-A_Lab
Firefly Hackerspace [Wyoming, USA]
http://www.fireflyhackerspace.org/
"An open community work space and education center with the resources to provide education and creative outlets for anyone who wants to learn. We are not yet fully open to the public"
A hackerspace + "We have a few full timers here and are making room for more as we speak!". A hackbase!
9/17
http://nomadwiki.org/en/Firefly_Hackerspace
MS Stubnitz [ship currently docked in Hamburg/DE]
MS Stubnitz is an 80 metre, 1960's ship transformed into a cultural and culture documentation platform. It hosts a regular ~10 person crew who can live and work there, and is able to accept new crew on a personal agreement basis. Crew consists of cultural programme organisers and event producers, audio/video engineers, technical staff to keep the boat running, a chef, and other people helping to sustain the organism. Currently it's based in Hafencity, Hamburg (Germany), holds regular self-organised culture programme.
Docked in Hamburg, Germany, at least until 2017.
http://ms.stubnitz.com/
9/17
http://nomadwiki.org/en/MS_Stubnitz
Lakabe village [Lakabe, Spain]
http://matslats.net/ecovillage-tour/lakabe
http://www.youtube.com/watch?v=91pBFyLWIx4
That 30+years Spanish eco-village that everybody keeps linking :)
9/17
http://nomadwiki.org/en/Lakabe
Bought Island, via Tynan [Nova Scotia, Canada]
http://tynan.com/island
+
http://tynan.com/island2
+
http://hackthesystem.com/blog/why-we-bought-an-island/
+
http://news.ycombinator.com/item?id=6395148
"It's in Nova Scotia, Canada (eastern edge of Canada), easily accessible by air or car."
+bob.bobson:
"the closest I've seen [to No Mad Island], although it's certainly smaller scale"
9/17
http://nomadwiki.org/en/Tynan%27s_island
Tamera [Portugal]
http://tamera.org
"A group which started in the 1960's, permanently located in S.Portugal since 1995. ~250 people living on 335 acres. Strong focus on creating world-peace through free-love and peace between the genders."
9/17
http://nomadwiki.org/en/Tamera
tocadocoelho [Portugal]
last update in 2015
http://tocadocoelho.eu/about-us/farm-teams
9/17
http://nomadwiki.org/en/Tocadocoelho
Rainbow Mansion [Silicon Valley, USA]
http://www.rainbowmansion.com/
"a 5,000 square foot commune of people who strive to change the world"
"Occasionally we have openings for new residents. Come join a passionate, fun, and socially conscious community of makers, thinkers, and friends"
9/17
http://nomadwiki.org/en/Rainbow_Mansion
Marinaleda [Andalusia, Spain]
Status:
* "Today, Marinaleda is a place where the farms and the processing plants are collectively owned and provide work for everyone who wants it. A mortgage is €15 per month, sport is played in a stadium emblazoned with a huge mural of Che Guevara, and there are monthly 'Red Sundays' when everyone works together to clean up the neighbourhood. Leading this revolution is the village mayor, Juan Manuel Sánchez Gordillo, who in 2012 became a household name in Spain after heading raids on local supermarkets to feed the Andalusian unemployed."
* "Marinaleda is a small and remote village of Andalusia, one of the poorest regions in Spain. The town, with a population of 2,700 citizens, has a unique political and economic system of a strong socialist nature. As a result Marinaleda has virtually full employment in Andalusia, a region where the unemployment rate is more than 36%. The wage is equal for all workers, they earn 47 euro a day for six and a half hours of work. Moreover, the land is communal property."
http://en.wikipedia.org/wiki/Marinaleda
http://www.versobooks.com/books/1582-the-village-against-the-world
http://www.theguardian.com/world/2013/oct/20/marinaleda-spanish-communist-village-utopia
http://vimeo.com/89487871
9/17
http://nomadwiki.org/en/Marinaleda
Unmonastery [Athens Greece, ?]
*** as of September 2017 all places are either suggested or inactive ***
"The unMonastery is a social clinic for the future. It is a place-based social innovation is aimed at addressing the interlinked needs of empty space, unemployment and depleting social services by embedding committed, skilled individuals within communities that could benefit from their presence"
Links:
*
http://unmonastery.org/
*
http://edgeryders.eu/en/unmonastery
Status:
* selectively open to public (calls to participation + selection process)
* Matera, Italy not active in late 2015 (?)
* Athens, Greece coliving group running (late 2015)
* Status update article from 2015-11-16:
http://medium.com/@unmonastery/unmonastery-the-year-ahead-2f082b000a7a
Content:
* "Unmonastery BIOS" (unreleased) and Code/Uncode book
* They've distilled a kind of code of conduct inspired by monastary life:
"Book of mistakes"
9/17
http://nomadwiki.org/en/Unmonastery
Boodaville [Mallorca, Spain]
http://boodaville.wordpress.com
"1.5 hectares of olive terraces and two piney hillsides at the bottom of the Vall Rovira, Matarranya, Spain. one ruin, no mains water, not much electricity"
"The project will be split into four, with a family, or couple, or individual each taking on a quarter share in the project. Most of these people will live at Boodaville full time, but anyone who doesn't will be there at least 3 months of the year and be seriously committed to taking the project forward. There will be a small group of long-term volunteers in addition to the permanent residents, and the members of the community (who must share the aims of the project) will collaborate to host regular courses and events to ensure the project is economically sustainable."
9/17
http://nomadwiki.org/en/Boodaville
Omni Commons [Oakland, California, USA]
http://omnicommons.org/
"A collective space to share and commune in Oakland, California."
Currently buying the building they're renting.
9/17
http://nomadwiki.org/en/Omni_Commons
S14 [Antwerp, Belgium]
http://ooooo.be/S14/
"A bourgeois house with inhabitants, visitors and lodgers, which hosts a hackbase on the ground floor + mediacave with a online radio studio, 2 beds, library + archive of bolwerk."
9/17
Can Masdeu [near Barcelona, Spain]
http://www.canmasdeu.net/
"The valley of Can Masdeu is a network of projects that resists, at the rhythm of the seasons, the voracity of a city without limits. It is a creative act of disobedience to the world of money, smoke, noise and speed. A proposal for collective cooperation and coexistence between generations, at the foot of Collserola and with roots in Nou Barris.
The valley comprises 35 hectares of land classified as 'equipamientos', part of the Collserola Natural Park and is owned by the Hospital de Sant Pau. However, from the point of view of use, the active custodianship of this suburban territory is exercised by the collectives that have reclaimed this as an agricultural and social space since 2001. This network mobilizes hundreds of people, all linked to one of the five projects of the valley, and remains viscerally convinced that the land belongs to the those that work it."
9/17
http://nomadwiki.org/en/Can_Masdeu
Kanthaus [Wurzen - near Leipzig, Germany]
https://kanthaus.online
"
[...]
The project house and housing project
Kanthaus
, located at Kantstraße 20 and 22 in Wurzen, exists since Summer 2017. Conscious and effective use of resources is the topic we chose for ourselves and foodsharing is what brought us all together. The faces you encounter at Kanthaus can vary because we are part of a big network of ecological and social people from Germany and beyond. Normally there are around 10 people present at Kanthaus; when we hold events it can be way more but it's seldomly less.
[...]
"
yunity Wupphouse [Erlangen, Germany]
UPDATE : Whole project is dead
2018-12-26
yunity defines itself as "a multi-saving and sharing project - food, items, skills, transport, spaces... "
http://project.yunity.org
atm in a old, partly burned down trainstation near Leipzig and trying to repair it. Discussing about suspending the project because of the high damagecurrent yunity projects:
http://project.yunity.org/#projects
and Wiki:
http://yunity.atlassian.net/wiki
project updates:
http://yunity.org/en/heartbeat
9/17
http://nomadwiki.org/en/Yunity
Modri kot (Blue Corner) [ROG factory, Ljubljana, Slovenia]
Multi-functional place in the squatted factory ROG.
http://modri.space
(slovenian)
<<<you can't actually stay there so it's not for this list
Traumschule Riebau [Altmark, Germany]
Traumschule
is located in the area of Altmark, Germany. It is dedicated to the
Freiräume foundation
as an open space and platform for actions. It is one spot in a wider network of nomadbases promoting the concept of free learning, self-organized skillsharing and DIY projects. It is located in the area of in.
The place contains a former NVA military building with workshops, a historical train station and 4 hectare with some permaculture and fruit trees.
9/17
http://nomadwiki.org/en/Traumschule
Synergie Hub + Décentrale [Mont-Soleil, Switzerland]
The Synergiehub is an open network that invites you to participate in projects for fair economy, grassroots governance, free education and citizen journalism. The projects include activities in the domains of agriculture, housing, health and technology. We strive to co-create a future that embraces Permaculture principles in all aspects of life. Wherever you are, at home or on the road, you are where you need to, to be involved. We work glocally around the world and from the Décentrale, an old art-nouveau villa that you can come and stay at and make your part-time home.
http://synergiehub.ch/
The Décentrale property on Mont-Soleil, Switzerland is the home of no one and the part-time home of many. It is an open space used by many projects that are self-organised through the Synergiehub. The property is owned by the non-profit Permavillages association, administered by the Coopérative Décentrale and is itself self-organised through the Synergiehub as well.
At the heart of the one hectare property, an old art-nouveau villa houses up to 16 people and provides workshop rooms, the kitchen and social living space. The surrounding park offers additional shelter in the form of tiny houses, caravan, tipi and yurt. The mix of park trees, open meadows and forest provide a good opportunity to develop an edible forest garden.
http://wiki.synergiehub.ch/decentrale
9/17
http://nomadwiki.org/en/Synergie_Hub
Eotopia [Saône-et-Loire, France]
Web:
http://www.eotopia.org/
Vegan gift-economy eco village
9/17
http://nomadwiki.org/en/Eotopia
Aurora community [Romania]
http://www.aurora-community.org
"May all the particles of the Universe, even the darkest spots, be permeated by Love.
May the Light shine on this Planet through the quiet mind and pure hearts of Man and may the Divine Plan be restored on Earth. "
9/17
http://nomadwiki.org/en/Aurora_community
Nomadic Village [mobile tribe in Europe]
http://nomadic.cd
(Yearly 2-week gathering, different EU places)
Artists on the road
"Artists, researchers, activists, hackers, those who intentionally displace themselves to seek encounters that not only influence their work but form it; those who work without borders and constantly respond to situations, places and people along their journey, those who have an autonomous working and living mobile setup
Since 2009 the Nomadic Village has been a 2 weeks annual settlement of Artists on the road. The nomadic artists' mobile homes/ateliers form the structure of the Village around On The Road Productions' Steyr-Ikarus bus, which acts as its townhall. In this autonomous enviroment participants can freely experiment with new ways of working; it stimulates creativity and exchange, and attracts local people to observe and participate in the process."
9/17
http://nomadwiki.org/en/Nomadic_Village
Ecoaldea [Cabeceiras de Basto , Portugal]
vegetarian ecovillage
http://ecoaldeavegetariana.wordpress.com/
9/17
http://nomadwiki.org/en/Ecoaldea
The Internet Farm [Dahmetal (80km south of Berlin), Germany]
Co-working & Co-living space for people interested in sustainability. Started sept 2017.
Creating a community aimed at self-sustainability, bio-diversity and unlearning. Have animals (eco) to produce milk & eggs & woll.
There is also an old water mill (still working) and several buildings.
Welcoming volunteers too.
http://www.facebook.com/Internetfarm/
http://theinternetfarm.org/vision/
contact: Kim@theinternetfarm.org
LIST: TEMPORARY
X
LIST: PLANNING
Reset Society [Malaga, Spain]
a technology focused initiative to build an economically viable, environmentally sound and socially responsible community in a small town.
http://www.resetsociety.com
9/17
http://nomadwiki.org/en/Reset_society
No Mad Island [Isla Tesoro, Panama]
http://nomadbase.world
http://www.facebook.com/groups/1021873941179378/
http://www.facebook.com/NomadbaseLLC/
Focus:
Buying an island
Since late 2017: accepting shares (looking for 500 people)
Docs:
http://drive.google.com/folderview?id=0Bxb-GAKKagGffjVvWVNndGxoNDRkdnJNNmpoVmR6NG5oNnUyeGNqempzTEhTQVA4LVB5VEU&usp=drive_web
-----------------------
was:
*
http://nomadisland.info/
* Isla Majagual ... (what happened to this?)
Earth SkyLab [Portugal?]
Organising camps ?
http://skylab.earth/
Project Nomadland.org [south Spain?]
http://www.facebook.com/groups/1616412278571553/
Reddit Island
"The Reddit Island Project is dedicated to creating an affordable, sustainable, and self-sufficient modern island community by leveraging the financial resources, individual skills, state-of-the-art technology and entrepreneurial investment provided by the inhabitants. Reddit Island will strive to build this new city through residential and commercial real estate, eco-tourism, free market enterprise and by promoting the values of collaboration, volunteerism and mutual respect for all who seek to call Reddit Island their home."
http://www.reddit.com/r/redditisland/
The RBE10K Project
http://en.rbem.org/wiki/RBE10K
http://www.facebook.com/Rbe10k
"RBE10K (R.B.E. ten thousand) is a minimalist (simple living) or eco-communalist project seeking to implement a model experimental Resource-Based Economic Model (RBEM) system. The experiment is being designed and planned mainly through the project's Wiki (
http://en.rbem.org/wiki/RBE10K)
, and supported by other tools like this Facebook page, TZM Network, VK, Bettermeans, Libreplan, and others. The project initiated on 1st January 2013, and is intended to finalise by December 2014 (two years), and implement the two-year-long experimental community beginning on January 2015"
ProtoTribal [Arizona, USA]
http://CampExist.org
now
http://www.prototribal.org/
ProtoTribal is a non-profit, decentralized, collaborative project with the goal of developing and spreading ideas that will allow us to thrive sustainably, off grid, outside of civilization.
We're working on fun, low cost, DIY green tech projects to provide shelter, transportation, water, power, and communication and will be hosting and appearing at festivals and workshops soon!
This site is in development. If you're hungry for more info, check back regularly as we'll be adding content regularly!
Digital Nomad Eco-Village
http://www.facebook.com/groups/1775730492663294
"This group is to facilitate the discussion and creation of the Digital Nomad Eco-Village to be based in the south of Spain. We are looking at crowd-funding land and property for the digital nomad eco-village - possibly in partnership with an existing eco-village. The place will act as a refuge for digital nomads, startups, artists, world-changers, mavericks and unemployables escaping corporate capture of the modern world and seeking new systems/alternatives of living. -100% Renewable Energy -Sustainable Organic Agriculture -Gift Economy/ Resource Based Economy -Automation -Open Source -Abundance Generation for All "
Antwerp Collective
http://sharewiki.org/en/Antwerp_Collective
(defunct?)
UnSystem "Opensource City"
http://wiki.unsystem.net/en/index.php/UnSYSTEM/Opensource_city
Cryptocurrencies, etc.
Venus Project
http://www.thevenusproject.com/en/
(theoretic)
"The Venus Project proposes an alternative vision of what the future can be if we apply what we already know in order to achieve a sustainable new world civilization. It calls for a straightforward redesign of our culture in which the age-old inadequacies of war, poverty, hunger, debt and unnecessary human suffering are viewed not only as avoidable, but as totally unacceptable."
Kraftwerk1 [Zurich, Switzerland]
Kraftwerk1 is a cooperative and grassroots housing and workspace project with three settlements located in and around Zurich. It started as an experiment in the real estate crisis of the 1990s, departing from the vision of a worldwide movement of appropriation of former industrial areas, toward shaping "a new civilisation beyond work." Kraftwerk1 became a collective, self-organized, environmentally and economically sustainable urban alternative, within a mix of residential, social and commercial spaces.
[...]
Through the process of development and (daily) living, Kraftwerk1 contributes to the renaissance of the traditional cooperative movement in Zurich. Its members developed environmental standards, operational concepts, and collaborative activities in dialogue among themselves and the elected cooperative bodies
Also:
* connections to work of p.m. and "bolo'bolo"?
* connections to o500?
More:
http://kraftwerk1.ch/
[german]
http://www.o500.org/zurich.html
http://www.o500.org/pm.html
Genesis.Re
http://genesis.re/
LIST: DEFUNCT (?)
Hacker Halfway House [NYC, USA]
(slides describe) "Disaster of coliving" / "a hackerspace people actually lived in" ~2004 ?
https://www.youtube.com/watch?v=Eh-AGMETpxk
slides (in Flash?) stored
here
, also pictured in
this 21c3 presentation
Casa Robino [Amsterdam]
http://casarobino.org/
a nomadbase, 2008-2012
Banana Berlin
http://hackpad.com/Banana-Berlin-House-Info-xcCRUtIcz3p
Private; mostly "hackers"
Status: ?
Emerging Leader Labs [NY, USA]
http://emergingleaderlabs.org/
Kovalam Ezhuthu Kalari / KEK [India]
http://kek.org.in/
New Hackbase <sva
Building Man [UK?]
http://buildingman.org/
http://www.facebook.com/buildingmancoop
Status: ?
Nomadbase Lisbon [Portugal]
http://lisbon.nomadbase.org/index.html
Temporary December 2015 - January 2016
Nomadbase.Eu [Borislavtsi, Bolgaria]
Nomadic people seek new pastures, new lands and new futures.
Here at the NomadBase, you can set roots for a short time to unwind, commune and learn.
A fresh initiative to create the change we would like to see in the world.
Links:
*
http://nomadbase.eu
*
http://www.facebook.com/nomadskabaza
(FB)
*
http://www.facebook.com/groups/1674584162772471/
(FB group)
Since November 2015.
LIST: UMBRELLA ORGANISATIONS
The Mietshäuser Syndikat [Germany, ~100 projects]
"Apartment-house syndicate". Some sort of a mutualist co-op?
Info:
http://www.syndikat.org/en
Basically:
* provides advice to self-organized house projects interested in the Syndikat's model
* invests in projects so that they can be taken off the real estate market
* helps with its know-how in the area of project financing
* initiates new projects
Projects + map:
http://www.syndikat.org/de/projekte/
9/17
http://nomadwiki.org/en/Mietsh%C3%A4user_Syndikat
Ecohackerfarm [Germany, ~2 projects]
Ecohackerfarm is an organisation to collect tools, methods and provide help for creating an ecological self sustainable hackbase (defined by their ideals:
http://wiki.ecohackerfarm.org/ideals
).
Info:
*
http://wiki.ecohackerfarm.org
*
http://ecohackerfarm.org
9/17
http://nomadwiki.org/en/Category:OpenEcoLab
Freiräume foundation [Germany, ??? projects]
Stiftung Freiräume
promotes the idea of open spaces dedicated to political organizing without formal hierarchies, preset rules or laws and.
9/17
http://nomadwiki.org/en/Freir%C3%A4ume_foundation
Federation of Egalitarian Communities
"The FEC is a union of Egalitarian Communities which have joined together in our common struggle to create a lifestyle based on Equality, Cooperation, and Harmony with the Earth."
http://thefec.org
9/17
http://nomadwiki.org/en/Federation_of_Egalitarian_Communities
One Community Global
Development of open source tools
http://www.onecommunityglobal.org/
9/17
http://nomadwiki.org/en/One_Community_Global
LIST: RESEARCH ORGANISATIONS
Also check out the
🔗postuni
𝌡
systematic.
N55 art collective [Copenhagen/DK]
http://n55.dk/
"N55 is a Copenhagen-based Scandinavian art collective which was founded in 1994. They work with art and everyday life. Over the years, N55 have achieved international recognition for their projects. All of N55's work is freely accessible; their books, manuals and images can be seen online and are not copyrighted."
Basics:
* developing modular cargo bikes and trikes and has designed rolling modules that create temporary useable spaces and shelters in unused places.
* also have a list of properties around the world that nomads can use freely to camp on and maybe even set up hackbases on as well:
here
!
*
Manuals
!!!!
ID22: Institute for Creative Sustainability [Berlin/DE]
http://id22.net/en/
"a multidisciplinary, non-profit organization based in the urban lab we know as Berlin. A focus is on the theory and practice of creative sustainability, emphasizing self-organization and local urban initiatives. The Institute coordinates educational services, networking events and publications exploring CoHousing in the context a post-growth, democratic urban development."
Makrolab, by Marko Peljhan [Ljubljana/SLO]
http://v2.nl/archive/works/makrolab
"Makrolab is an autonomous communications, research and living unit and space, capable of sustaining concentrated work of 4 people in isolation/insulation conditions for up to 120 days. The project started in 1994 and was first realised during an art exhbition, documenta X in Kassel in 1997.
[...]
Makrolab has a projected life span of 10 years. The project has ended its active life in 2007."
More:
*
http://www.makery.info/en/2017/07/25/marko-peljhan-lutopie-materialisee-du-makrolab-12/
!
*
http://www.pogledi.si/kritike/makrolab-kot-druzbena-kritika
(in Slovenian)
*
http://www.artscatalyst.org/makrolab-scotland
(Scottish deployment)
*
[...]
[ img:
https://blog.openbazaar.org/wp-content/uploads/2016/01/Decentralized-network-1.png
|500px]
LIST: MAILING LISTS
:
* hackerspaces.org :
---------------------------
listing:
http://lists.hackerspaces.org/mailman/listinfo/
kind of dead? check archives + should be revitalized:
*
http://lists.hackerspaces.org/mailmaan/listinfo/hacker-event-theory
*
http://lists.hackerspaces.org/mailman/listinfo/theory
NEW!:
*
http://lists.hackerspaces.org/mailman/listinfo/hackbases
* Thk -- Public list for the organization of a transcultural hackmeeting:
https://www.autistici.org/mailman/listinfo/thk
(via
https://trans.hackmeeting.org/
)
* unciv:
http://unciv.nl/
http://lists.puscii.nl/wws/info/uncivilization
* nettime:
http://www.nettime.org/info.html
http://mx.kein.org/mailman/listinfo/nettime-l
* liberationtech:
http://mailman.stanford.edu/mailman/listinfo/liberationtech
* unSYSTEM <
http://mailinglists.dyne.org/cgi-bin/mailman/listinfo/unsystem
>:
"Revolutionaries on standby."
-------------------
also see other dyne.org lists :
http://lists.dyne.org/lurker/splash/index.en.html
* hackademia:
"Many of us who went to the Chaos Computer Club camp in Germany met to discuss the study of hacking (whether through scholarly, activist or artistic work). We have created a mailing list to continue the discussion and plan for future meetings. Please join if you are interested"
POST: hackademia@lists.riseup.net
SUB: hackademia-subscribe@lists.riseup.net
* squattingeurope (sqek):
by invite/introduction only
* Platform Cooperativism <
http://lists.riseup.net/www/info/platformcoop-discuss
>
=====================================
* artsec:
"This is a meetup series and
mailing list
for artists and technologists exploring the intersection of computer security and media art."
http://groups.google.com/forum/#
!forum/artsec
* Cryptography <
http://www.metzdowd.com/mailman/listinfo/cryptography
>
* Noisebridge <
http://www.noisebridge.net/mailman/listinfo/noisebridge-discuss
> (a hackerspace in San Francisco)
* Sudo Room <
http://sudoroom.org/lists/listinfo/sudo-discuss
> (a hackerspace in Oakland)
* Cypherpunks <
http://lists.cpunks.org/mailman/listinfo
>
* Cryptome <
http://cryptome.org/cryptome-mail-list.htm
>
* [...] <------------- (new)#1: unsorted new MAILING LISTS & SOCIAL MEDIA GROUPS
https://www.facebook.com/groups/1802637813102065/2
with
https://teatray.miraheze.org/
LIST: ONLINE GROUPS
IRC channels
*
Freenode:
#hackbases
#hackerspaces
#nomads
#nomadbase
OFTC, mozilla, hackint, [...]
*
http://nomadwiki.org/en/Nomadwiki.org:Community#Communication
[...]
Facebook
Check yours at
http://www.facebook.com/groups
MORE LISTS OF LISTS: * Newspeak house / Ed Saperia's list:
"A repository of open channels containing people working on political and civic technology."
http://docs.google.com/spreadsheets/d/1KYjJfFHwLXQjhAXl1Th1ktX2VrnmvpSl-Xsl7yoblLM/edit#gid=0
FB groups, mailing lists, Meetup groups, Slack, weekly teleconferences, github repos,
[...]
*
[...]
GROUPS: +++
http://www.facebook.com/groups/300265436835555
150 Hackbase Architecture
http://www.facebook.com/groups/p2p.open/?ref=br_rs
6k P2P main group
http://www.facebook.com/groups/322508360006/
2k P2P RESEARCH CLUSTER
http://www.facebook.com/groups/774241602654986/
ecology of systems thinking, 5k ! (christopher chase)
http://www.facebook.com/groups/debtors/
220 debtors united
http://www.facebook.com/groups/243544029102989/
220, Community-Tours by ECO-BASA.ORG
GROUPS: COLIVING PROJECTS
http://www.facebook.com/groups/utopianowvillage/
new project, 700 (mark mason)
http://www.facebook.com/groups/371540219623206/
SLO LOCAL GROUP ("let's squat an abandoned village) 200
http://www.facebook.com/groups/1775730492663294/
Digital Nomad Eco-Village 1k (place in Spain)
GROUPS: GENERAL RELATED TOPICS
http://www.facebook.com/groups/FREE.NOMADS/
nomads a life of alternative travel, 180k
http://www.facebook.com/groups/eoslife/
4000
http://www.facebook.com/groups/70212350791/
institute of network cultures, 1300. calls!
http://www.facebook.com/groups/579940655425355/
decentralized autonomous society, 5k (cryptocurrency)
http://www.facebook.com/groups/1706731536226852/
2k NEO-TRIBES (alexa clay)
http://www.facebook.com/groups/Techfugees/
7k (mike butcher)
http://www.facebook.com/groups/anarchistsworldwide/
1000
http://www.facebook.com/groups/850609558335839/
public academic library, 20k. finding books.
http://www.facebook.com/groups/281634641937112/
Sustainable Living Village Network, 2k (kamiel choi)
http://www.facebook.com/groups/commuitynetworking/
Community Network and Resource Mapping 2k
http://www.facebook.com/groups/fulltimetravellers/
2k Global Nomads (full-time travellers)
http://www.facebook.com/groups/1674584162772471/
nomadbase 800
http://www.facebook.com/groups/635100583265472/
DIY Sustainability, 77 (bilal etc) "Exploring hacker/maker culture in a transitioning world."
http://www.facebook.com/groups/628765847246225/
world revolution 7k (climate change revolution)
http://www.facebook.com/groups/platformcoop/
trebor scholz 1200
http://www.facebook.com/groups/anticapitalistleague/
ACL, 3500, long desc!
http://www.facebook.com/groups/browserbased/
2k : BrowserBased functions as a practice oriented, open research platform which deals with the browser based context and net-culture as a space for knowledge creation and dispersion. We organise live coding sessions, gatherings for guest speakers, workshops, international exhibitions and more. /// Currently, the geo-marker of BrowserBased is set in Amsterdam, where the group was first formed from the need to organise a physical hub for the networked arts. We offer a platform for net art, maintain archives of recorded streams and our exhibitions and run an open page on Facebook. /// BrowserBased focusses on the progressive and dominant influence of the Internet, spurred on by the net being the central medium for communication, research, discourse, (re)presentation of art and art itself. Since we do not believe in geographical constraints and the governing academic conventions, we are constantly looking for collaboration with like minded, international communities.
http://www.facebook.com/groups/2272050639/
Association of Autonomous Astronauts 1000
http://www.facebook.com/groups/1584253045130391/
citizen kino 300 (paolo podrescu)
http://www.facebook.com/groups/580278565332720/
400 survival park (ewan chardonet): This group is dedicated to study our lifes in the planetary Survival Park : metaphysical studies for catastrophist times
http://www.facebook.com/groups/labcraft/
1000 Labcraft is an emergent Community of Practice around how social labs cultivate change through experimentation and collaboration. It started with 12 lab practitioners coming together to write the book Labcraft. We are committed to continue to share and evolve this craft. You are invited to join us! /// Learn more about Labcraft book: www.labcraft.co
http://www.facebook.com/groups/solarpunkcollective/
400 "Solarpunk is a vision of the future through the technological eyes of today's green movement, but with the aesthetics of the art nouveau era, and an added ethos of decentralizing the West as the dominant global culture. We are here to share art, fiction, philosophy, technology, and ideas."
http://www.facebook.com/groups/197549520432629/
300 wild economics "Questioning what truly resilient cultures and economies look like, and discovering other ways of being human – ways that are not dependent on money."
http://www.facebook.com/groups/1651166588488043/
700 nomads workation spaces
http://www.facebook.com/groups/RefugeesWork/
1k (nina breznik)
http://www.facebook.com/groups/510477519018977/
coworking rural spaces 200
http://www.facebook.com/groups/monochrom/
2k
http://www.facebook.com/groups/Hexayurt/
700
http://www.facebook.com/groups/globalvillages/
600 "This is a group for those who recognize the enormous potential to merge the local (living environment, neighborhood, source of life, home, community, nature, needs) with the global (thinking environment,virtual design sphere, knowledge, communication)." (Franz Nahrada)
http://www.facebook.com/groups/1206960359323785/
ECOSYSTEM RESTORATION GROUP 11k
GROUPS: SPECIAL INTEREST
http://www.facebook.com/groups/workercoops/
1200 coops in UK
http://www.facebook.com/groups/pixelache/
finland event 700
http://www.facebook.com/groups/networkofnetworks/
500 META ! for the software.
http://www.facebook.com/groups/ProgressiveEcon/
1700
http://www.facebook.com/groups/374454179394794/
OSCE event page 1700
IDEA: HAVE HYPERC******* GROUP THAT WOULD ORG IT !!!!!
http://www.facebook.com/groups/782496861812492/
Technoprogressive Library 1400
GROUPS: LANZAROTE SPECIFIC
lanzarote digital nomads
canary islands nomad
http://www.facebook.com/groups/lanzarote.it.pros/
http://www.facebook.com/groups/1618624795083333/
canary nomads, 700 (nacho)
http://www.facebook.com/groups/372440206811/
lanzarote sostenible 200
https://www.facebook.com/groups/394347087440260/
Lanzarote & The Canary Islands Art Scene
OPEN QUESTIONS (FOR POSTING) (STUB):
* Is it ok to post same content to many groups? Do initiatives do that in general?
* How to cross-modify content?
* ... maybe post in span of a few days?
* ... maybe try finding support (twitterstorm style) because sheeple?
* To post once, or to post every subseason?
* Rather produce original content? (decision trees, articles, lists, etc)
* ... or participate in comments?
PAGES:
http://www.facebook.com/P2PFoundation/
FIND VIA: ------------------ manual researching:
* go to "groups" subpage
* pg down all the way
* ctrl+f members
* quick scan
------------------------- todo people
ah uhm
http://www.facebook.com/ah.uhm.5/groups
200
http://www.facebook.com/hexayurt/groups
80
http://www.facebook.com/orsans/groups
155
------------------------- todo general
FIND MORE via the tags of existing pages MISSING: nomad/activist MISSING: rocker/activist
------------------------- done
dmytri kleiner
http://www.facebook.com/dmytri.kleiner/groups
113 dcht00
http://www.facebook.com/david.potocnik/groups
125 brett scott 29 wark 180 james 65 ed saperia
http://www.facebook.com/edsaperia/groups
170 mbauwens
http://www.facebook.com/mbauwens/groups
125
PROJECT - BUILD TOOL FOR CHECKING THESE OUT:
making people and topic graphs, checking activity, etc
---------------------
list:
* fb people handles
for groups:
* check groups
* cross-check membership & participation
* rate groups
then:
* find other top participants (likes, etc)
* discover further groups
*
[...]
Others
TWITTER LISTS:
* Lanzarote tech:
http://twitter.com/dcht00/lists/lanzarotech
*
[...]
COUCHSURFING.COM GROUPS:
*
[...]
MEETUP.COM:
*
[...]
ETC???:
* BeWelcome
* Diaspora?
* Mastodon?
*
[...]
(also see / to merge / find more leads):
*
http://backbone409.calafou.org/participants/index.en.html
(server collectives, etc)
*
http://riseup.net/en/security/resources/radical-servers
(server collectives)
*
[...]
PODCASTS:
*
http://chaosradio.ccc.de/chaosradio_international.html
*
[...]
!!!
ALSO SEE / NEW
http://alexandros.is/initiatives/
Three initiatives related in many ways to everything listed here.
http://www.dancingrabbit.org/
an eco village
http://www.facebook.com/groups/utopianowvillage/
:
Utopia Now Village, FB discussion group via
http://masonphd.net/
http://www.facebook.com/priscillaqueenofthemedina
:
Priscilla Queen Of the Medina @ Morocco, artist residence
http://www.dailymail.co.uk/travel/travel_news/article-3305128/The-modern-hippy-haven-peek-life-incredible-nomadic-gypsies-live-Spanish-mountain-caves-homes-reminiscent-Shire.html
http://www.euboea.io/
<--- ??? link down at the moment
Embassy Network "a global housing layer for the new world"
http://embassynetwork.com
http://twitter.com/embassynetwork
---------
2017-12
* now has a Berlin location
* has "DRFT" in beta, an "internal currency"
*
[...]
USA SCENE ???
first mentioned:
* Aprovecho
* Solar Living Institute
"""
it's a biig scene.. my unscientific impression is that it's rather more pervasive here than in Europe.
Much of the US is "off-grid," for practical and sometimes cultural/political reasons. Going out to the colonies or the frontier was and is a sort of going off-grid, after all, all along.
For sources, Appropedia.org comes to mind, Mother Earth News, Home Power Magazine, many other off-grid / homestead / survivalist / "prepper" magazines and sites.
Whole Earth Catalog was a very influential publication in this space 1968-72 and occasionally after; and various offshoots of it continue to influence, like its 'Shelter' section head Lloyd Kahn's offshoot Shelter Publishing, still going strong, based in Bolinas just N. of San Francisco. Maker movement and Maker Faire organization has strong lineage to that and Bay Area / NorCal scene.
"""
THE INTERNET FARM @ south of Berlin, Germany
http://www.facebook.com/Internetfarm/
http://theinternetfarm.org/vision/
MEDIALAB PRADO @ Madrid/ESP
"has 3 residency rooms"
<boodaville, asked about similar projects:
"""
* ecodharma,
http://www.ecodharma.com/
:
The Eco-Dharma Centre is situated in a beautiful and wild part of the Catalan Pyrenees. We offer courses, events and retreats which support the realisation of our human potential and the development of an ecological consciousness honouring our mutual belonging within the web of life – drawing on the Buddhist Dharma and the emerging ecological paradigms of our time
* permacultura barcelona ...
http://www.permacultura-bcn.org/
http://twitter.com/PermaBCN
* 12p permaculture design,
http://12pdesign.net/
:
12 Principles Permaculture Design is a Mediterranean-based permaculture education and consulting organisation. Our talented and experienced associates offer a wide range of learning opportunities, and are capable of assessing, designing and implementing projects based on the the ethics, principles, and strategies of permaculture
* permamed ...
http://permamed.org/
* maslallum ...
http://www.maslallum.es/
:
Welcome to Mas la Llum; Casa Rural Ecological Tourism. Located in Arenys de Lledó, in the Matarranya, Mas la Llum has three hectares of forest with a large terrace and garden. Surrounded by an excellent environment: Algars the river at the foot of the Natural Park in Beseit Ports. Mas la Llum is a House of Rural Ecotourism ecological self-built with natural elements: straw bales, wood, mud and natural clay paints; is self-sufficient and operates with 100% renewable energy.
"""
All of these look primarily like "education communities", offering programs to financially sustain the fixed residents there, ... than "open infrastructure" bases with their own research agendas, etc.
http://ecologicalland.coop/our-sites
UK, 2 sites
THE CLEARING
The Clearing is a vision of the future in the grounds of Compton Verney Art Gallery and Park
http://www.the-clearing.info/
"""
The Clearing is a vision of the future in the grounds of Compton Verney Art Gallery and Park. We're building a living, breathing encampment, in the shadow of the former stately home, where people can come together to learn how to live in the world that's coming our way. From March to December 2017, The Clearing will become part school, part shelter and part folly.
...
For more information on global temperatures, food scarcity, migration, water scarcity, soil degradation and peak everything, please click the links.
"""
cool worksops:
http://www.the-clearing.info/workshops/
Portugal
http://www.facebook.com/LouralVillage/?hc_location=ufi
"Loural Village is a small eco village in central Portugal which is being restored. Permaculture and workshops, meditations and healing, inhaling the natural beauty, eating home produce and feeling renewed. Live life as it is meant to be, care for the earth, in community with others. // We want to receive permanent inhabitants, locals, travelers, hikers, and anyone that wants to enjoy the nature and the peacefulness of the site for some days or weeks. Loural will be an open village, also and definitely not in the least for local people, to enjoy a coffee and pay a visit on a free day."
PandoraHub ?
http://www.pandorahub.co/
http://www.pandorahub.co/manifiesto/
More:
*
http://www.pandorahub.co/ruralcoliving-autumnsafari16
"Safari"
Capitalist / Entrepreneurial
<----------------------------------------- (new)#2 :
above: COLIVING/EXPERIMENTAL SPACES,
below: VARIOUS COMRADES
Fabship
"sort of alike philosophy to hackbases but shinier"
http://fabship.cc/
(+pau knows guy there)
FuckOffGoogle
https://wiki.fuckoffgoogle.de/index.php?title=Main_Page
""" Here is a space to collect and aggregate data, campaigning material, and everything that can help kicking the "Google campus" out of Kreuzberg, and Google out of our lives! Check a gallery of urban art and other interventions in the streets! """
(via the Clearing)
http://www.tom-james.info/index.php/current/a-future-manual/
IMVEC !!
http://twitter.com/imvectech
http://imvec.tech/
stationed @hangar.lab
#tocheckout #grants
http://twitter.com/TransitSI
Transformative Social Innovation | Research | Practically relevant theory | FP7 | Europe & Latin America | funded by
@
EU_H2020
|
#
socinn
@lanzarote
http://inventadero.com/
BANK OF THE COMMONS
http://www.facebook.com/bankofthecommons/
OPEN COLLECTIVE
http://www.facebook.com/BeOpenCollective
http://opencollective.com/
#subfinance
MAKERS LANZAROTE
@lanzarote
"""
Hello, I'm Mara, from a new no-profit association here in Playa Honda:
Makers Lanzarote
We are just start with a 3D printers y arduino projects, and we are collaborating with another association in Las Palmas:
Envienta Open Source Ecology
"""
DYNE
dyne.org
all from
🔗postuni
𝌡
, like +waag !
MORE NEW:
*
https://envisioninglifestyles.org/
*
https://www.degrowth.info/en/interactive/
*
[...]
---
(Site generated by E2H, an "Etherpad hypermedia" project by @dcht00).

This work is licensed under a Creative Commons Attribution-NonCommercial-ShareAlike 4.0 International License.