Upcoming!
[ style:css-u_alt]
Totalism Base @ Canary Islands
CHT7-A
late OCT - mid DEC 2019
< PUBLIC OPEN-EDITABLE PLAN >
< PRE-DRAFT+ >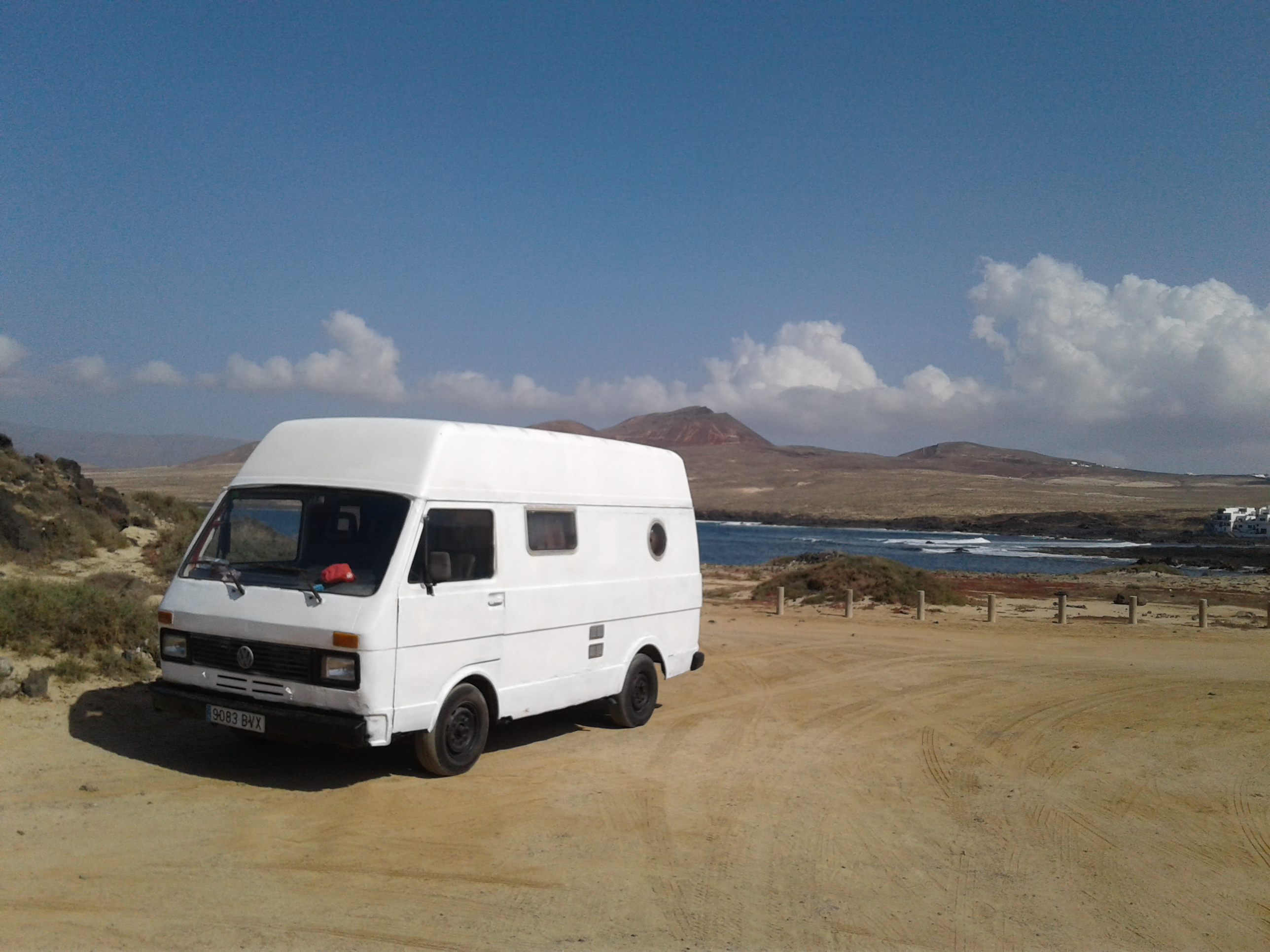 JOIN CREW HERE:
---> 🔗planning𝌡 !
Announced on ...
* Pad:
https://totalism.org/cht7a
(future proof) or
https://next.totalism.org
TODO !!!!!!
Status Report
Previous camps were all in the island of Lanzarote, Canary Islands:
Lastly:
CHT6-A and CHT6-B
, from November 2018 to March 2019. (See
🔗season6-A
𝌡
., and
CHT6-C
, on June/July 2019. (See
🔗season6-C
𝌡
.) For more, see
🔗camps
𝌡
.
With
🔗trucko
𝌡
the 1984 VW transporter van fixed & registered, the
project is now fully mobile
. New activities are focusing on
expanding our available-to-all infrastructure
, developing
new strategies for life+work
decoupled from the mainstream systems, and expanding the project to
other islands of the Canarias
.
Scenario
T+0: LandingVan needs to be re-registered.
This should not be a problem. With some repairs/improvements, this might take a week in Lanzarote.
T+1 week: Move to Fuerteventura
Very probably follow to
move the van with a ferry to Fuerteventura
. This costs ~20€ + 20€ per person.
Once we're in Fuerteventura, everything is possible. Nobody was ever there. Expect
lots of exploration
, and trying to
meet new people
: locals (Spanish/Canarian), as well as the international "surfer" crowd there.
We will probably set a few
van-supported camps
, and
organize some public events
.
We will definitely
go around by bikes
, buying some new ones if we need to (currently have 3).
Mid-December: Teardown, fly to 36c3
Teardown, store van somewhere. Perhaps bring it back to Lanzarote, but probably not.
Go home, or catch flights to
🔗36c3
𝌡
(the 36th Chaos Communication Congress in Leipzig/DE).
( Page map )
zoom zoom ;-)
Piper error: java.net.ProtocolException: Server redirected too many times (20)
*** Project Ideas
>>> General Projects <<<
See 🔗projects𝌡 !!!
>>> Continue work from previous subseasons <<<
See 🔗camps𝌡 (past camp projects & reports) !!!
Especially the latest: 🔗season6-C𝌡 & 🔗season6-A𝌡.
>>> New Projects: Pick from "NEXT" list <<<
See 🔗next𝌡 !!!
•THEORY• Overthinking CHT (problems + solutions) | LIVE+PC
* Lack of liquid capital:
(coco/pau, coop?, few donations, ...)
* Unstable timing:
CAN BE SOLVED WITH A FIXED TIMING (yearly "A", "B" and "C" seasons)
SUPPLEMENTED BY "X" SEASONS (if anyone wants to do them)
* Clear and deliverable project-work support systems:
FIX
🔗projects
𝌡
(AND LINKED PAGES)
* General situation developing too quickly:
CONSOLIDATION
* Lack of people power:
capacities:
* self-determined
* realize need to do the job (and only quit if there is alternatives)
*
[...]
how:
CONSOLIDATION
* Precarious, unstable conditions to work:
CONSOLIDATION
Less experimentation, more release
•COOP• Lim0: Solar Distribution | PC+LANZA
* ready another portable solar setup:
ORDER !!!
•INFRA• Maintain Trucko | LANZA+PC
* >pau : bring the spring
* >mechanic:
* install spring
* change tires
* center tires
•COOP• CCC relations | PC
Get CCC voucher.
Document best CCC setups. Seek inspiration. Approach critically CHT vs theirs.
•INFRA/OPS• Sail | LANZA+PC
* ask >javi :
[...]
* get opencpn + charts:
where to find them ??? >aa
* osmand has a layer:
it's not perfect - we checked la graciosa !!!
* what kind of boat do we want/need?
sailboat
* where to moor?
* anchoring in water?
*
[...]
>>> Projects: Pick from "season6-C" list <<<
See 🔗season6-C𝌡 !!!
INFRA | Ordering new stuff | PC+LIVE
Defining, researching, seleeting, financing, buying, shipping/delivering ... new equipment.
See 🔗ordering-new𝌡.Addresses at 🔗shipping-new𝌡.
Specifically, for more on Van parts see
🔗trucko-new
𝌡
.
THEORY: Postinternet content & goods distribution. | PC + LIVE
#Vaults
,
coop logistics
Developed during
"Networks with an Attitude"
@ Antwerp/BE, April 2019.
Coming soon:
🔗postinternet-distribution
𝌡
!
PR: Project Spread | PC + LIVE
Figure out how to
find more executive people for the projects
.
:
* improve PR
* improve project definitions
* re-activate people we know
*
[...]
SYS+THEORY: Revectorize alliances. | PC
No more alliances based on simulacra.
"Too many college radicals are two-timing punks. The only reason you should be in college is to destroy it."― Abbie Hoffman, Steal This Book
______________________
🔗alike
𝌡
page is good, but lacking.
:
* It needs to merge with
🔗intersub
𝌡
and even
🔗postmarket
𝌡
.
* Develop "Call-out culture" for anyone involved with, based on distinct re-processed set of values.
Who are really our closest organisations? Are we comrades, or are we "friends"?
THEORY: Post-Postmodernist Art | PC + LIVE
Beyond classic-mimetic, modernist, and postmodernist.
Contemporary art is most often whimsical, out-of-context, inconsequential, and not truly engaging the "topics of our time".
Considering the present - environmental, political, ... - situation, this is aesthetically grotesque.
Assemble manifesto and practices:
* Establish measure of Urgency, and a consequent ethics-politics-aesthetics.
* Call-out all the bullshitt.
* New curatorial strategies - what is Totalist curation?
*
[...]
THEORY: Base type 5: Squatting | LANZA
Document the process of occupying a house, with a case in progress.
+oier
<---------------------------------- (new) PROJECTS || (smaller ideas)
(also...)
* missing: idea of the size of the camp ...:
A) define usual size ?
B) define aim ?
C) define several possibilities ?
* meet "iso in the sun" guy
*
[...]
---
(Site generated by E2H, an "Etherpad hypermedia" project by @dcht00).

This work is licensed under a Creative Commons Attribution-NonCommercial-ShareAlike 4.0 International License.