CHT/TOTALISM HACKBASE,
SEASON 4, Act B (CHT4-B)
"Desert Autarky Sketch"
April 6th - June 20th 2015 (75 days)Lanzarote, Canary IslandsLa Graciosa (small islet North of Lanzarote)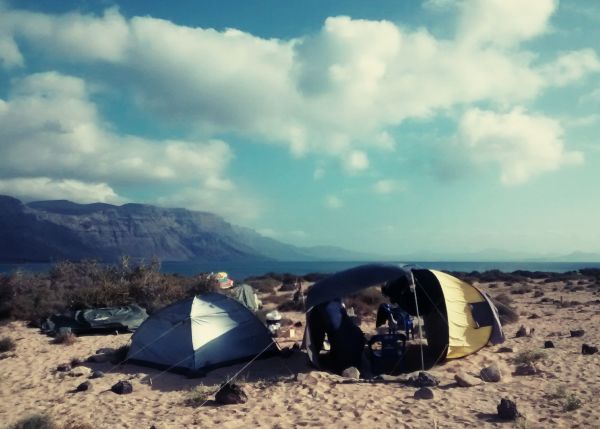 ### redo this: (random photos, refresh for more)### redo this: Objective: "Recreate this photo in Lanzarote" = Build hexayurts ............ (originally, from Burning man, Nevada, USA // Photo Credit: Von Desvib via this post) .......
http://www.flickr.com/people/blacklightaquarium/
.........
https://tinyhouselistings.com/hexayurts/
(2021: DEAD) ..........The photo:
https://www.flickr.com/photos/blacklightaquarium/6275027949/
(is Copyrighted!)
Document Updates:
2015-05-19: mid-season update
2015-09-05: merging-in season reports (david)
2015-11-13: touch
2016-11-11: updated photos
_________
20210527 MO
Still to merge [!!]:
* Jarkko's report * more David's notes
¶
Status & outline
The base was packed up since December 18th 2014.
It restarted April 6th 2015.The plan original outline was:
* Continue work from
🔗season4-A
:
refreshing, refocusing and retalking lab notes & plans
deciding next steps for project
*
More building! Build hexayurt-type shelters!
* More agriculture / food experimentation!
* Redoing storage of things (new location and organizing)
* Plan for Nowhere camp (July) & CCC Camp (August)! See
🔗calendar
.
The camp ended around June 20th in La Graciosa.
Reports below!
¶
Participating
Participation was
open to all:
*
e-mail to info@totalism.org
* IRC
#hackbases
on Freenode
* write yourself down @ Arrivals below
* @chtotalism twitter account @
http://twitter.com/chtotalism
* cover costs (~100€/week)
Also read:
* main site :
🔗web
* Season 4 / 2015 plans :
🔗season4
* Season 4-A report :
🔗season4-A
¶
Arrivals
Definitely coming:
* Gerrit / r4mp: April 7-17
* Jarkko / jasalt: Plane->Ferry ~ 8th-14th
* David / dcht00: April 10th 10am (Hamburg-Lanzarote, Condor DE5438, 50.99€)
* Christina : April 11-18
Definitely coming [failed]:
* Harry / Saepti: April 12th - 19th
* Kris: after 18th (update: looks like sooner)
¶
*** Random ideas & notes
¶
Campground location is not decided yet.
Options:
* repeat land of friend from S4-A (cool, have to ask) --> for the moment we are there
* Wild camping (interesting)
* Renting actual rent, possibly negotiating rent-to-buy (conceptual best)
¶
Buying a car?
Have some budget for this.
Pro:
* easily movable storage space!
* transport of things and people
* people rent it anyway (we've spent ~1-2k on rentals)
* distances are doable but not for all every day (Puerto del Carmen = 40km one way)
Contra:
* "Lanzarote is good for cycling also as it is fairly flat."
¶
Portable Water Filter System
at least to ask them what kind of components are used
http://store.wavesforwater.org/
<lorenz
¶
*** Post-camp: Report by David
Subseason had four parts.
---